Friday night fish fry, a tradition that has taken place every Friday night for as long as I can remember. When I come home, I make sure I am here for at least one Friday night. I can't miss a fish fry. A plate filled with fried Cod, potato pancakes and applesauce, coleslaw, home made tarter sauce and a glass of cold beer will complete anyone's Friday night.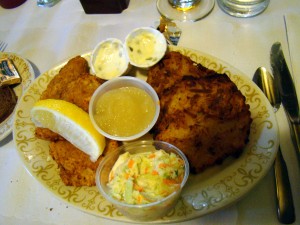 The tradition started with the Catholics and the large German population having meatless Fridays. During prohibition, taverns offered fish dinners to lure customers in just so they could keep their doors open. Some taverns offered free fried fish dinners while they were taking money under the table from the sale of beer.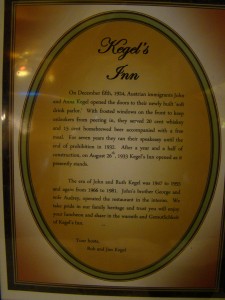 I don't think there is a place in Milwaukee that does not have a Friday Fish Fry. With taverns on almost every corner, the different halls and all the Catholic churches, you can't travel more than a block without seeing a sign offering a "Friday Night Fish Fry". If you are not there by 4:00 or 4:30, you can expect to wait, no matter where you go. Some places even offer "all you can eat"!
One hall that we frequent is the Tanner Hall. It is nothing but that, a hall. No fancy pictures or table cloths, just lots of yummy food, friendly waitresses and a enjoyable time had by all. Up until last year I believe, there was a waitress that worked there named Betty. Betty was in her late 80's and had been a waitress at Tanner Hall for over 30 years. She knew your name and what to bring you when she saw you.
Where else in this country will you find churches and taverns coming together serving the same meal? If you own a restaurant in Milwaukee and don't serve fish on Friday, you can expect to be empty. The hardest part is, choosing which one to go to, we all have our favorites.