Kopp's Frozen Custard. To those of you who don't know what I am talking about, I am sorry. You are missing out on the most incredible frozen creamy goodness ever created. And to those who know what I am speaking of, I know you are smiling right now.
When I come home to Milwaukee, Wisconsin, my first stop is Kopp's. I don't care how late, or tired I am, I stop. I am like a kid in a candy store with this place! I start swaying back and forth with a huge smile on my face, eyeing the menu of flavors for the day, trying to determine how many scoops I can eat before it starts melting down to my elbow.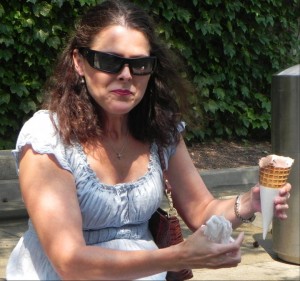 I spent a little time with Bud; the general manager of Kopp's and got to see what goes on behind the scenes. Bud has worked for Kopp's for 45 years now, which should tell you a little something about this place.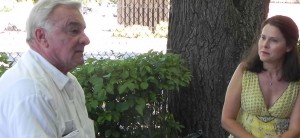 Elsa Kopp, a German immigrant, opened the first custard stand in Milwaukee, Wisconsin in 1950, after her husband, Karl Kopp developed Parkinson's disease. By 1960, Kopp's Frozen Custard was so popular Elsa started experimenting with different concoctions and ended up creating the "flavor of the day" menu.
On any given day, you can get the usual vanilla or chocolate custard. And then there are the two different "flavors of the day". On this particular day, it was Carmel Cashew and Birthday Cake. Carmel Cashew is caramel flavored custard with tons, yes, tons of cashews in it. Birthday cake custard is birthday cake flavored custard with chunks of sponge cake and red and blue frosting. Bud said they actually lose money on the days they make custards with nuts in it because of the quality of nuts they use.
The most popular flavor is Turtle Sundae, which is caramel custard, fudge, caramel and pecans. The pecans are not pieces, they are whole pecans. Bud said they go through on average of 120 to 130 gallons of custard a day, and that is for this stand alone. The secret to custard is the amount of butterfat, egg yolk and how much air is whipped into the mix. Bud would not divulge this information, and that is probably a smart thing. The standard amount to be considered custard is 10% butterfat. Kopp's far exceeds standard. Surprisingly, custard is lower in calories and fat than your standard ice cream. I don't know how that is possible, but it is true.
The custard mix is made for them according to their formula and delivered twice a week. It starts with the vanilla base and then the flavors are added right there in the refrigeration room.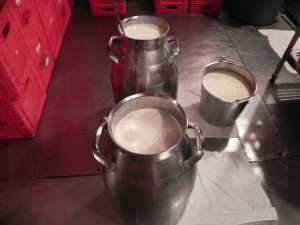 Bud stated that you can purchase a gallon of vanilla extract for $20.00, but the vanilla they use costs $180.00 per gallon. It's all about the quality for Kopp's. On Red Raspberry day, they start out with the vanilla custard, add red raspberry puree and extract, pour this into the hopper and let the machine do it's magic.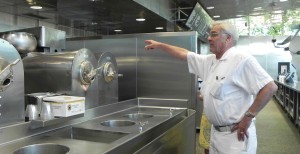 As the custard is frozen it comes out of the front of the hopper in beautiful frozen ribbons of creamy goodness. If red raspberry is the flavor you want, a couple of scoops of fresh raspberries gets tossed into the custard, they mix up the raspberries with the raspberry flavored custard and scoop it into a cup or cone, whichever you prefer. With every bite you eat you will get a whole fresh raspberry.
The "flavor forecast" is made monthly by Bud. This calendar of creamy perfection gives you two options of delectable delights to choose from. If you, the consumer have a flavor idea, you may send it in for testing to see how they can make it work. Some ideas stick and some don't. I don't think I will ever come up with something better than what they already have on the calendar. It's just not possible. They started serving "red velvet cake" custard a couple of years ago, and yes, it tastes just like red velvet cake. Kudos goes to the mixing man on that one. Unfortunately for me, it is not being served again until Tuesday the 19th.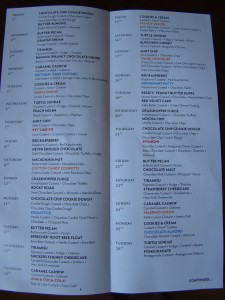 Everything they make is prepared fresh each morning. I was extremely impressed with the cleanliness before it was even cleaned. The doors open at 10:30 each morning and there is a line on any given day. I am usually one of those in line when I am here. If you get there in time, you can purchase yesterday's flavors, if there is any left, for half price. These are sold by the pint, quart and gallon. Luckily for me, most people in line that early are there for the Jumbo butter burgers. These hamburgers are literally the size of a saucer plate, at least 8" in diameter.
Kopp's is only available in Milwaukee, Wisconsin. Karl Kopp, the son of Elsa and the current owner, never franchised the business because of quality control. Mr. Kopp is a very "hands on" man and makes sure that quality is the top priority with his product.
I hope you understand better why I gain weight every time I come home. I'm not complaining, yet. I will wait until I get back to Alabama. Right now I will continue to enjoy the silky, buttery textured, frozen perfection called Kopp's Frozen Custard.
Friday is "Red Raspberry" and "Never Enough Chocolate" custard day, I just decided I'm not leaving until Saturday!