Down Hwy 29 in Georgia, sits the town of Newnan.  It is a small town of 30,000 people, with a beautiful Court House Square, and antebellum homes everywhere.  It is home to the famous Sprayberry BBQ, thanks to Lewis Gizzard, and it is has the largest slave cemetery in the South.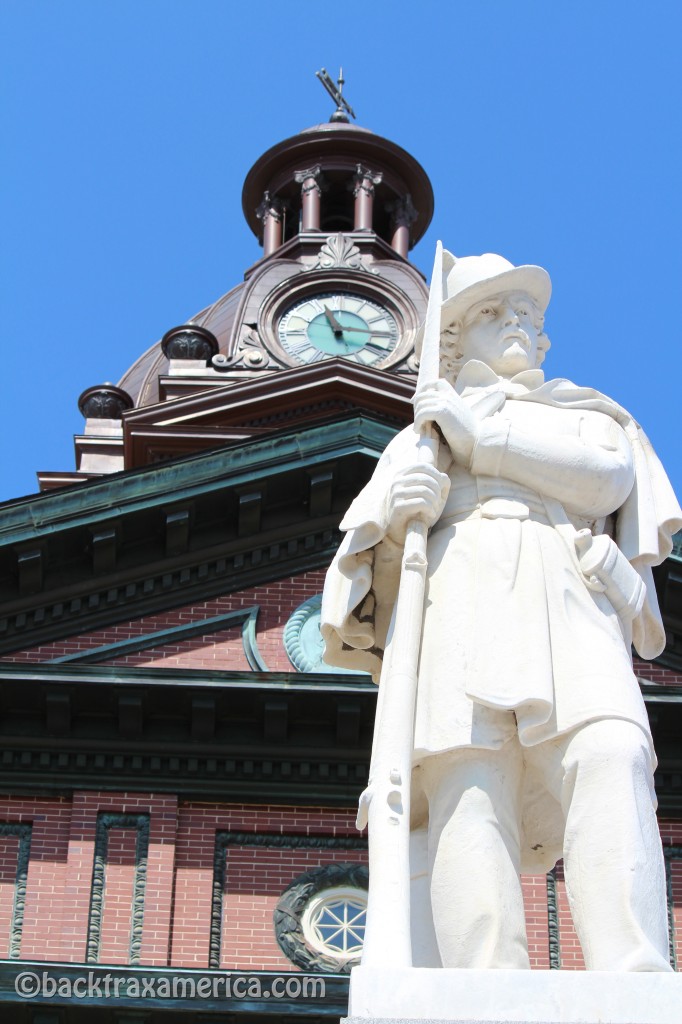 As we pull into town we noticed that there were tents set up around the Court House and decided to walk around.  The first Saturday of each month they have "Market Day" where you can buy anything from honey, baked goods, bird houses, clothing, you know, all that stuff you will find at street markets.  (I did buy a unique key chain.)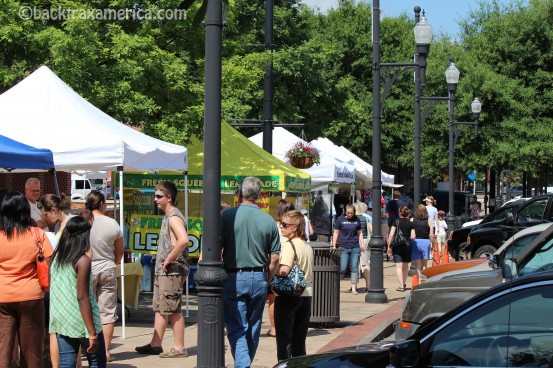 On every corner around the square, and across the street stood horses.  Painted horses, twenty-five of them in all.  Local artist came in and painted the fiberglass "horses of a different color."  They were placed around town this past April, and I can say, they are rather eye-catching.
As we walked around the square we asked a few people if they knew where the slave cemetery was.  No one knew so, we got back in the car and started driving again.  We then  came across a sign that read, "African-American Heritage Museum." We pull in, but it was closed on Saturday! Back in the car we go…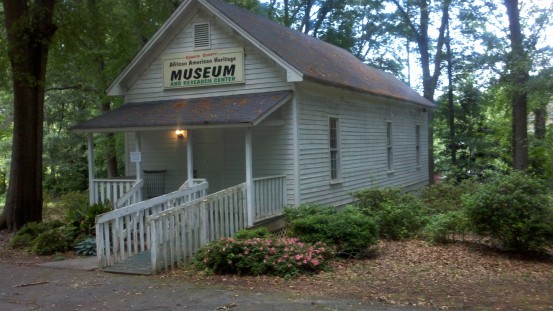 We are driving around the town when we spot a very large cemetery that spans both sides of the road, and we stop to look around. It was the Oak Hill Cemetery, and there were some very old and rather elaborate grave sites, and even a confederate soldier area, but no slave graves. Back in the car we go…
Around the corner was a church with three women working in the flower beds, so, we pull in.  Cliff asks them if they know where the slave cemetery is.  One lady said, "Hold on, let me get the phonebook."  Cliff replies with, "I don't think you will find it listed like that."  The woman said, "No, not anymore."  Again, no luck.  Back in the car we go…
We are now crossing through Newnan in every direction possible, with no luck in finding this supposed slave cemetery. How can no one know about something of this magnitude?  We did run across our lunch stop though, and yes you guessed it, Sprayberry's BBQ.  The only reason Cliff wanted to eat there was because Lewis Gizzard talked about it, and Mr. Gizzard is one of Cliff's idols.  After placing our order we asked the young waitress if she knew where the cemetery was, she replied, "There was an article in the paper last week about it."  Cliff asked her what the article said, and the waitress replied, "I don't know, I didn't read it."  I couldn't help but to laugh!  Back in the car we go…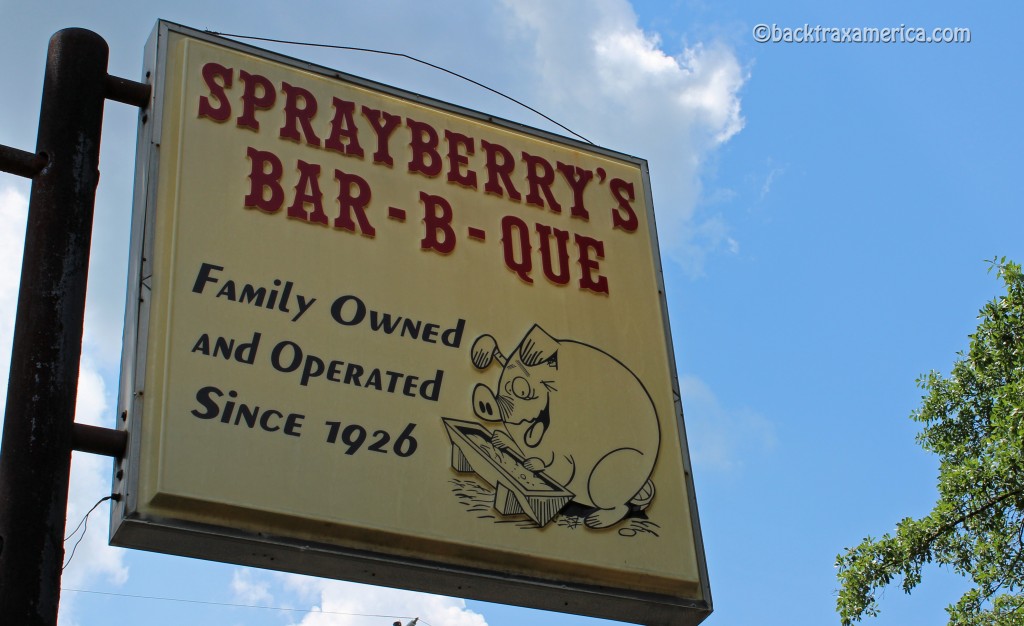 Finally, we found someone who knew about it, a police officer.  He told us it was at the "African-American Heritage Museum." REALLY?!?  Back we go.  After parking in the deserted parking lot we decided to look around the museum.  Maybe it was behind the little building.  Nope! Maybe it is in the tree covered lot next to the little building.  We walk around looking for grave markers, headstones, anything that would resemble a grave site. NOTHING!  I did notice some odd-looking green leaves all over the ground, and realized they were poison ivy and poison oak.  I am wearing flip-flops and shorts!  Now, I am high-stepping it, trying to avoid the green foliage that is covering the ground.  After examining the entire lot we found nothing. Nada. Rien. Nichts. Niente.  I decide that I do not want to risk any further damage of being eaten up with the poisoned plants and I head back to the car.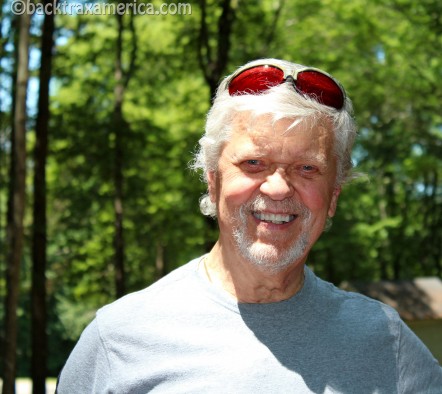 After getting buckled in and laughing at our luck, I grab my phone and ask Google where the "black cemetery in Newnan, Ga." was.  Up popped an article from ABC news that read, "The solitary headstone of 3-month-old Charlie Burch was the only visible evidence hinting at a burial ground for more than 200 slaves hidden beneath a poison ivy-covered field on a hill in Newnan, Ga." Click here for the rest of the story.
The imaginary "itch" starts.
Ten miles from Newnan, down Hwy 29 South, is Morland, GA.  Moreland is the birthplace of Lewis Gizzard and they have a museum in his honor.  Back in the car we go…
When you get to Moreland, GA, there is a sign that reads, "Lewis Gizzard Museum, right on Main St."  Moreland's population is 492, and if you blink, you will pass right through it, which we accidentally did. We turn around again, take a left on Main Street and then, ahh, the museum! CLOSED ON SATURDAY!   Back in the car we go…
This is my journey…
[donation-can goal_id='keep-me-on-the-road' style_id='default' show_progress=true show_description=true show_donations=false show_title=true title="]