When these three things come together you know its time for Oktoberfest in Helen, Georgia. Tucked away in the Blue Ridge Mountains on the Chattahoochee River in the Northeastern corner of George is a small town with a population of just over 600. For some odd reason I thought I could call at the beginning of October and secure a room in this quaint little town but, that was not possible. This unusual town, with its small population has over 1,000 hotel rooms and during the month of October has between 600,000 and 800,000 tourists.
During the history of Helen there was the Gold Rush in 1857 with a second one in 1912. There was the sawmill days that ended in 1931 and the manufacturing days that ended in the late 1960's. In 1968, some of the businessmen decided it was time to re-invent Helen one more time. One man named John Kollock, who was an artist, and had been stationed in Bavaria, Germany offered his idea of turning the town into an Alpine Village just like the ones in Bavaria. Mr. Kollock drew his ideas on paper and the business owners and carpenters got to work.
The first Oktoberfest was held in 1970 and quickly grew into a six week party. The town's "facelift" was completed in 1972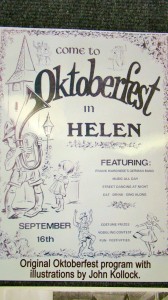 and now boasts that it is the third largest tourist attraction in Georgia, Atlanta being #1 with Savannah in a close #2. As I walked around the crowded streets admiring the buildings architecture which very much resembled Bavaria, and talking with various people, l couldn't help but to smile. It took me back to my time in Germany with a lot of fond memories.This is a beautiful town, especially during the fall with all of the colors.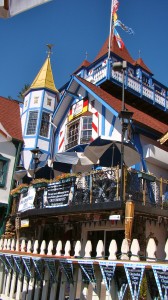 I found my way to the Festhalle and ordered a Brautwurst with German Potato Salad and a cold beer. I sat down at a table with a couple from Nashville who come here every year, and I asked them what time the Oompah music started,  they said not until nighttime, which was too bad because I had to get back on the road before dark.
With a full belly and new friends, I continued on my walk down the streets. There is great shopping here with some very authentic items to be had. My pocket book appreciated the fact I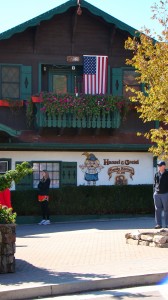 no longer have the room for more stuff.
I was able to spend some time with Jerry Elkins, the Town Manager, and Mr. Jeff Ashe. Mr. Ashe is running for the position of Mayor and took the time to drive me around the town to give me a better insight of this beautiful place on the mountain. Mr. Elkins and Mr. Ashe told me of the balloon race that is held every June. It is a race that starts in Helen and finishes at the Atlantic ocean. Hopefully I will be able to catch that on my journey. And no, I will not be getting in one!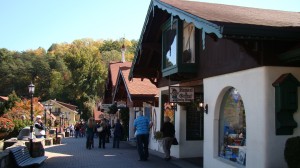 Helen, Georgia keeps the German traditions with a Winefest, Volksmarch, Christmas parades, Oktoberfest and Bavarian Nighs of Summer. Basically, there is something to do here during every season of the year!  The "little" town of Helen knows how to do it up in a "big" way!
This is my journey…
[donation-can goal_id='keep-me-on-the-road' style_id='default' show_progress=true show_description=true show_donations=false show_title=true title="]