"Fanny?" Trenton asked.
"Yes dear?" I answered.
"Have you ever seen a snake while camping?" he asked.
"Sweetie, I promise you, I have NEVER seen a snake while I have been camping all of these years." I said
"Ok." he replied.
Trenton is my friend Betsey's, son.  He is the first child I ever witnessed being born, and he has owned my heart from his very first breath.  He is now 11.  My boys are grown and gone, and I look at Trenton as my second chance at being a good mother.  I guess this is what being a grandparent feels like.  He has called me Fanny ever since he could talk because he could not say Nanette.
I asked him if he would like to go on a camping excursion with me across the Midwest seeing as my lil' buddy has not been out of the state of Alabama. (Except to go to the beach, but I don't consider that leaving the state.)  That's when the snake question came up.
With my large map on the wall and my road atlas flipped open, the planning begins…
Kentucky is one of those states that I always look forward to seeing again.  I love the mountains, the "S" curved roads through the forests, and the fog rolling down the mountains, into the valleys and across the lakes early in the morning.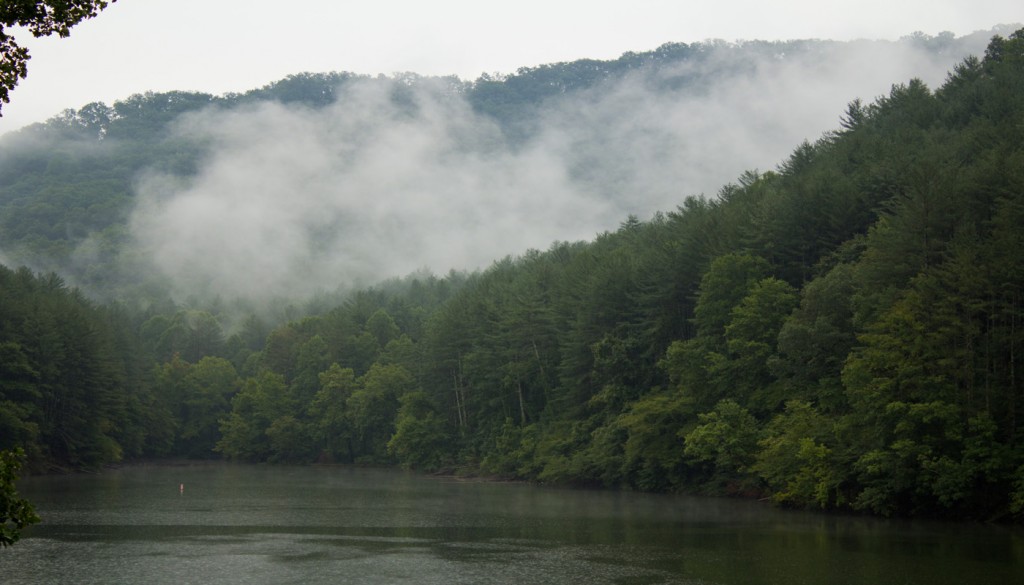 Natural Bridge Resort State Park is located in Slade, Kentucky, and it is one of the parks I have had marked on my map for some time, but never got close enough to stay there.  Seeing as this would be Trenton's first night ever in a tent,  I decided we would stay at this park and make a great start to our adventure.  I also knew it was supposed to rain, but I thought it would be there AFTER we got everything set up and had gone to bed….
We arrived around 5:00, found the perfect spot with the river running right in front of it. As we are driving back up to the check-in the wind starts to pick up, and as I am waiting for the charge to go through, (which it didn't because they lost power) I see the T-man reading the sign about the black bears in the area.  Not good.  Then the sky opens and the downpour begins.
Two hours later the rain slows down enough so we can get things set up.  I even manage to get a fire going so he can have his first S'more.  The end of day one.
Day two starts with breakfast over an open fire and a swim in the beautiful pool.  I now know why it called a "Resort" state park.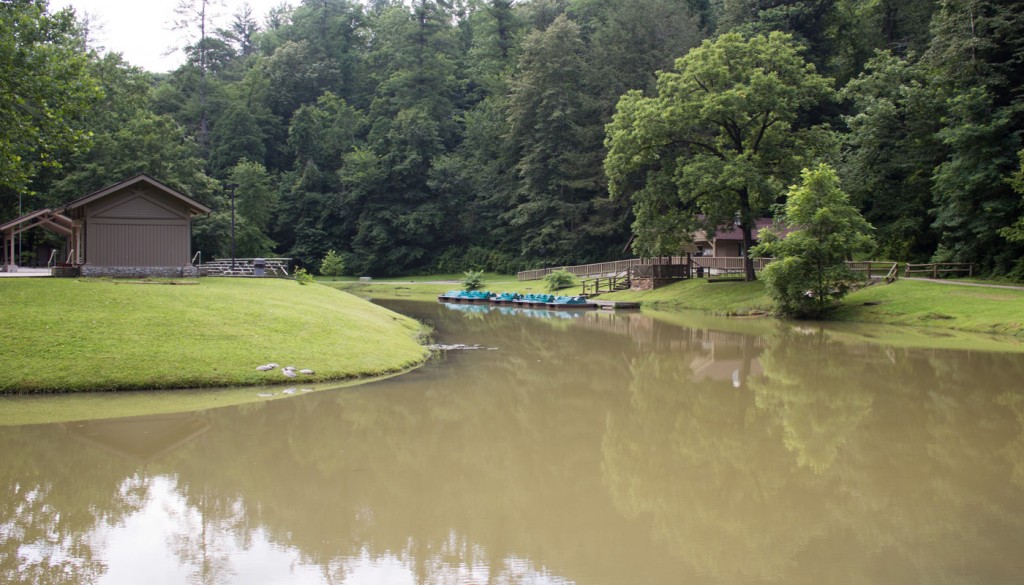 I had to be very persuasive to get the T-man away from the pool and take a hike with me up to the Natural Bridge. (You know, the reason I wanted to stay here in the first place.)  Now, I had NO IDEA what kind of a hike it would be, but I found out quickly what kind of shape I am in.  HORRIBLE!  Just HORRIBLE!  We had a steady climb of 45˚ for a mile and half, but we made it.  It was worth the hike.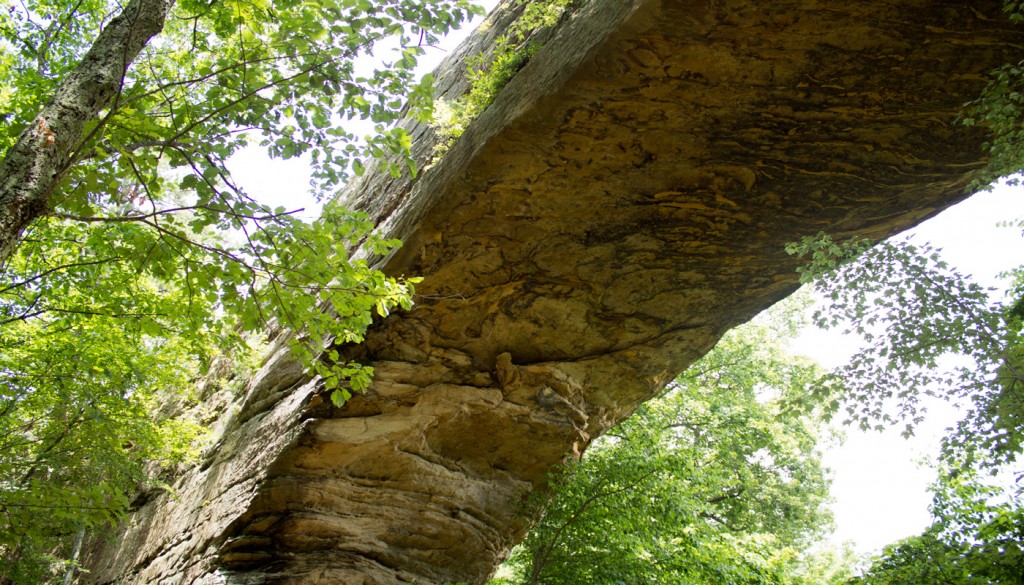 After a quick lunch back at camp, Trenton decides he wants to stay there and play in the river. (Whatever he wanted, he got!)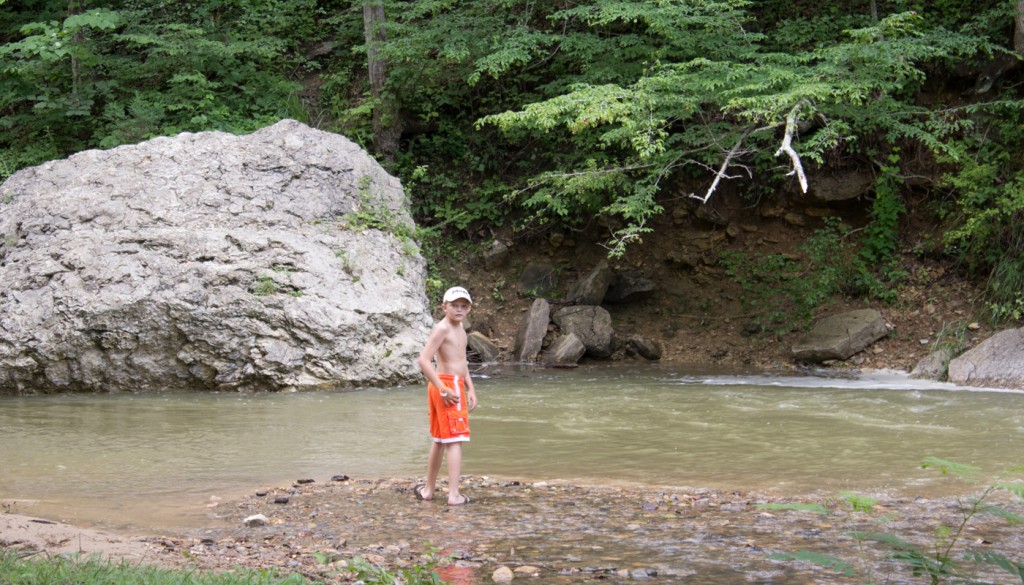 A few more kids show up and he was having fun.  The T-man and his new friend, Ethan, were walking in the river, when all of a sudden I hear, "SNAKE!!!!!!!"  I jump up as the boys are scrambling out of the river.  I am looking where they were pointing to, but I believe it is a stick on the rocks.  I grab my camera, put on the telephoto lens and snap a couple of pictures.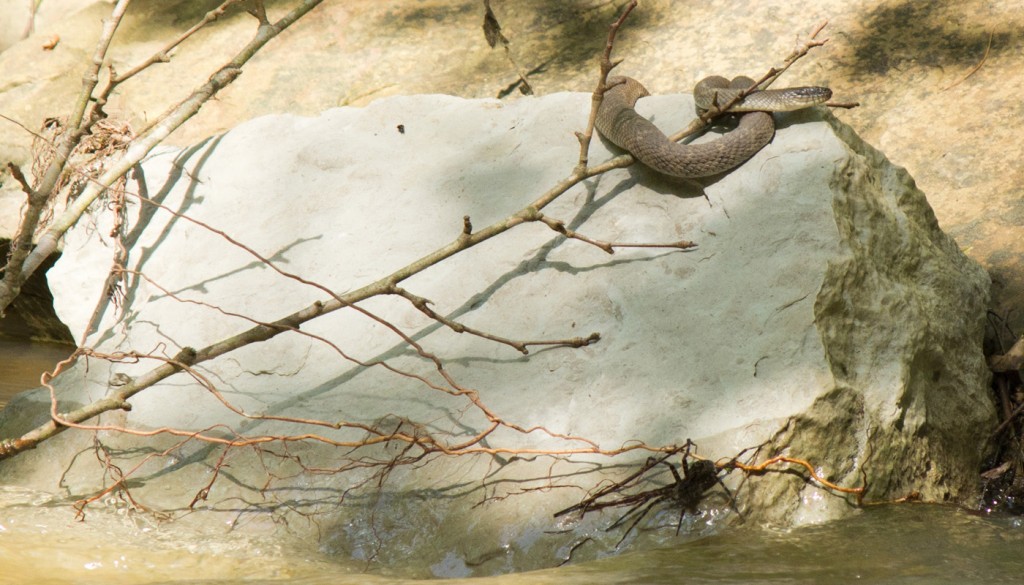 It's a snake.  Are you kidding me?!?  Ethan's father goes to the other side of the river to warn that family about the snake.  As the whole crew was looking down at the snake, it decided to leave, via the river.  Now, as the snake is making his decent into the river, I spot something else, SPIDER!!!!!! To heck with the snake, Did you see the size of that thing?!?
It was a sleepless night for me, while he slept like a king.