We have all seen the various Truffle Ball recipes floating around, and I have made my fair share of them.  Here is one that is a bit different…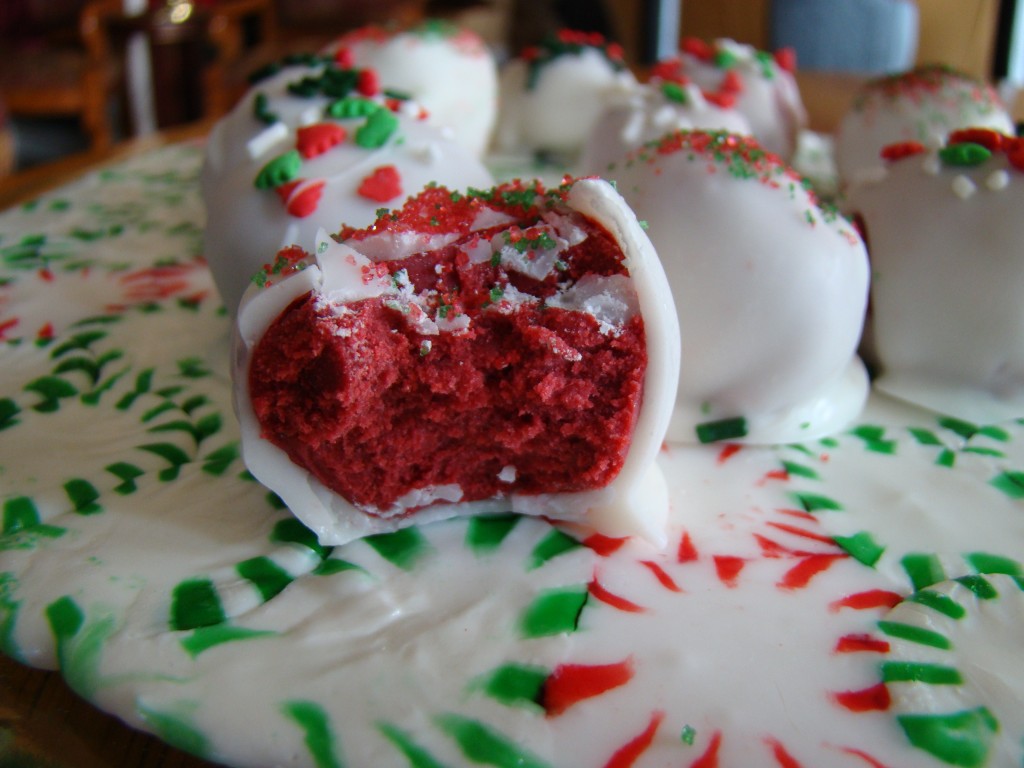 Red Velvet Brownies
3 Tbs cocoa powder
2 1/2 tps vanilla, divided
1 oz bottle red food coloring
1 stick butter, room temperature
1 1/2 cups sugar
2 eggs
1 1/4 cup flour
1/4 tsp salt
Heat oven to 350˚.  Spray a 9 x 13 x 2 pan with non-stick spray.  In a small bowl mix the cocoa, 1 1/2 tsp vanilla and food coloring together to form a paste.  Set aside
In a medium bowl, mix together the butter and sugar until fluffy.  Beat in the eggs, then add last tsp of vanilla.  Once incorporated, mix in the red velvet paste.  Add flour and salt and mix until combined.
Spread batter in the pan and bake for 22 – 28 minutes or until toothpick comes out clean.  Place on cooling rack until completely cooled.
Red Velvet Truffles
One pan of Red Velvet Brownies
12 oz Whipped Cream Cheese Frosting (Yes, this is SUPER rich!)
12 oz bag White Chocolate Chips
Sprinkles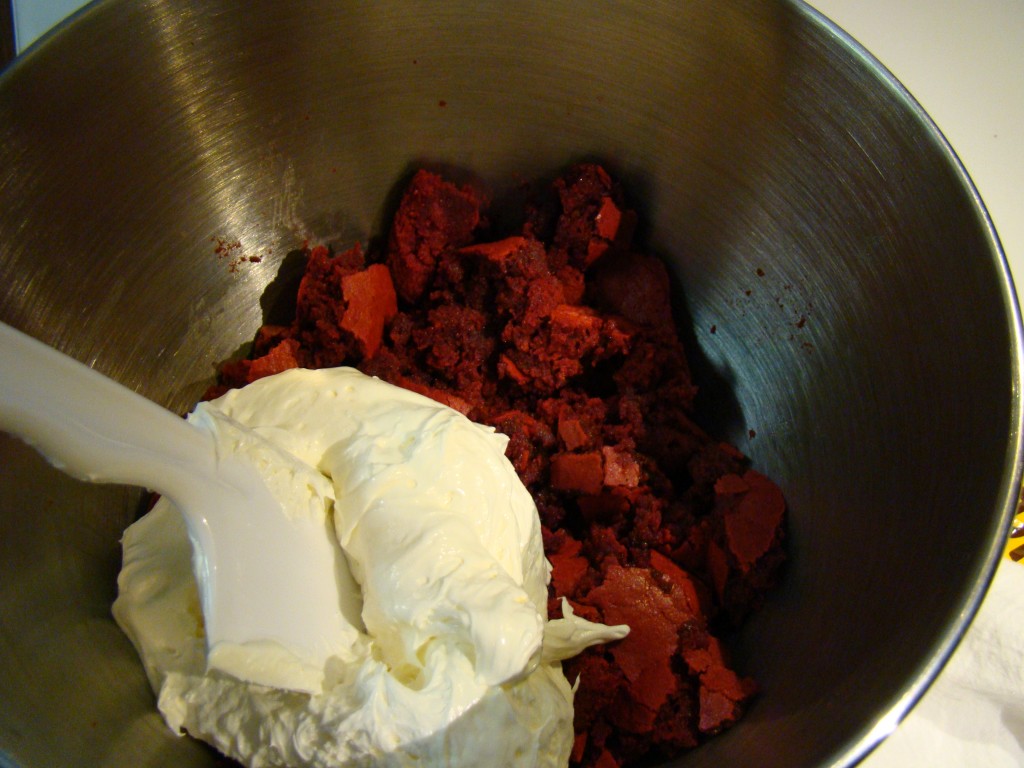 Line a cookie sheet with wax paper.  Break up the brownies into small pieces in a medium bowl.  Add the frosting and mix well.  Take a small amount of dough and roll into a small ball, about 1″ diameter.  Place the truffles in the freezer for 30 minutes.  Melt the chocolate in a bowl and dip the VERY cold truffles in the chocolate.  Quickly sprinkle the sprinkles on.  The chocolate will harden quickly, and once hardened, the sprinkles won't stick.  Place in the refrigerator until ready to serve.  Refrigerate any leftovers. (Don't worry, there won't be any!)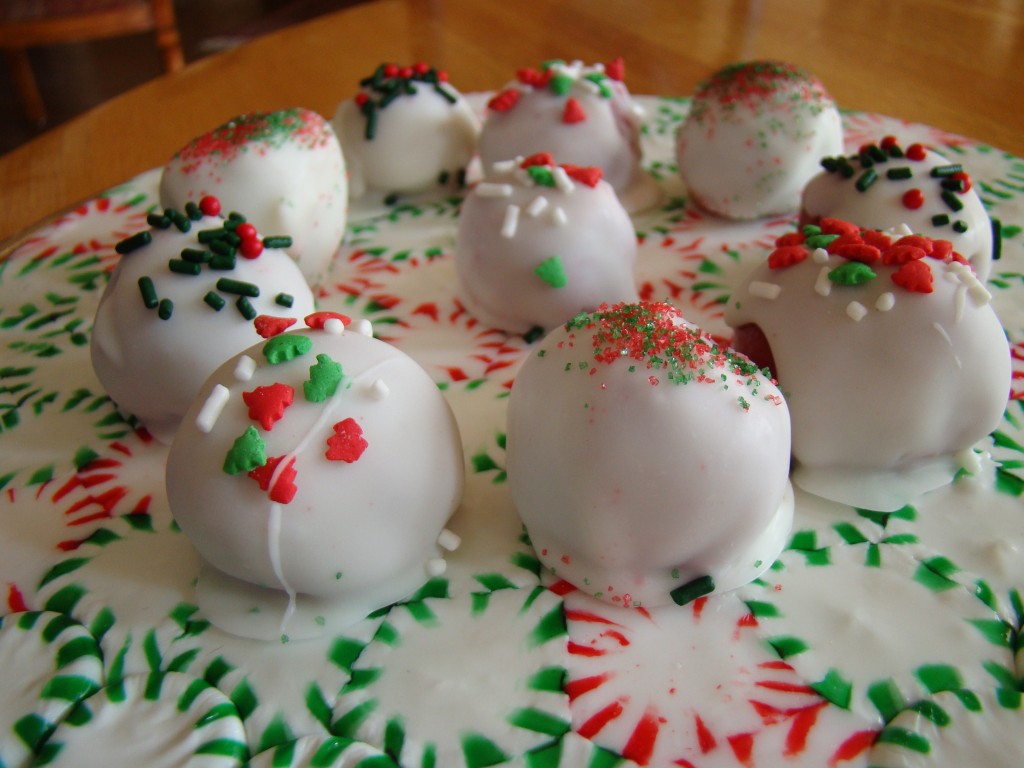 If you want to make the candy tray the truffles are sitting on, here ya go…
Peppermint Candy Trays
1 bag red peppermint candies
1 bag green peppermint candies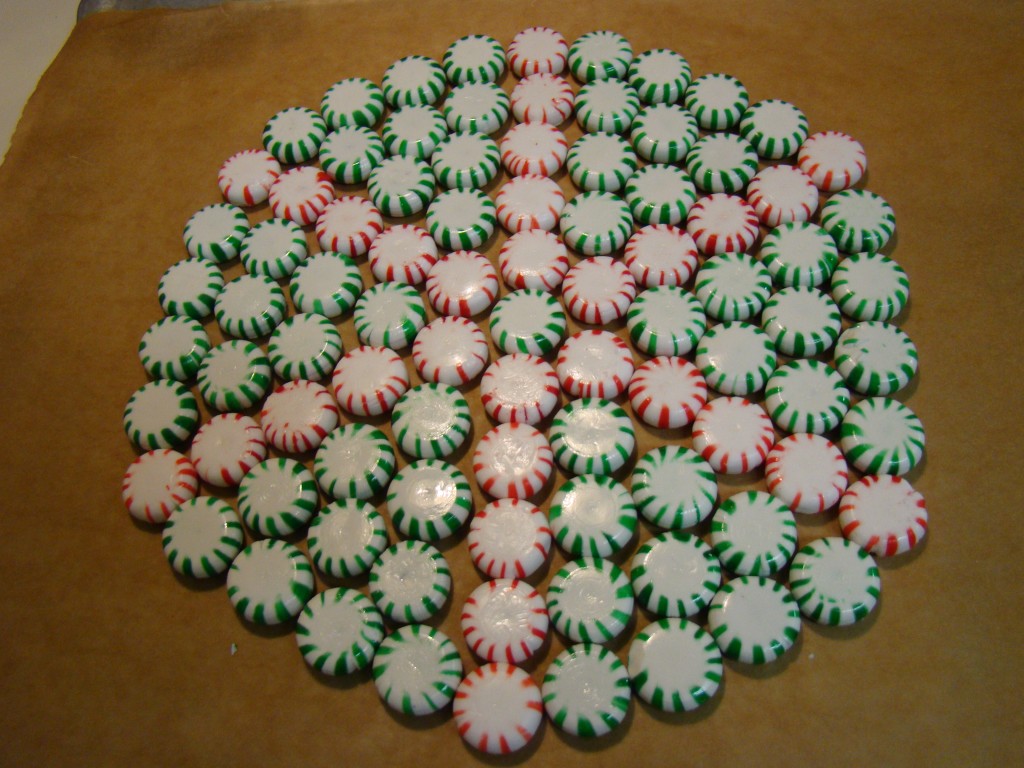 Heat oven to 350˚ and line a cookie sheet with parchment paper.  Make what ever kind of design you would like with the candy and place in oven for 8 – 10 minutes.  Candy will melt together, remove from oven and let cool completely.  Be careful with this tray, it breaks VERY  easy.