As I walked through the atrium to the production meeting this morning, I got a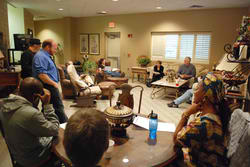 lump in my throat.  I was going to the last production meeting I would be attending for  the church I have been a part of since 1981, Frazer Memorial United Methodist Church.  For the past several years I have "run a camera" for the contemporary service, and I have loved every minute of it.  The meeting starts at 7:15 a.m. with the first service at 8:00 a.m..  Second service starts at 9:30 a.m., and last one at 11:00 a.m.  I am out of there by 12:15 p.m. and on the sofa taking a nap by 1:00 p.m.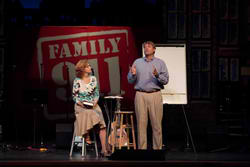 I have been running a camera for Frazer for so many years that I don't remember when I started.  However, I DO remember WHY I started.  When the congregation is singing the songs that the band is playing, the words are put on two screens.  On one particular sunday I was complaining (to myself) that the words were not getting on the screens fast enough.  This was causing people like me, who did not know the words, to mess up.  At the end of the service John Schmidt, the Teaching Pastor of the contemporary service at the time, asked for volunteers to help with the production of the service.  I volunteered.  I thought I was going to "Run a camera." Nope!  I was put in the tech booth running the power point.  Yes, I was now in charge of getting the words on the screen on time!  I didn't complain again,  I learned my lesson.
Over all these years I volunteered a lot.  I am not boasting, there are plenty of people who give more of their time than I have ever thought of doing, I am just sharing.  This is what I can remember, snac supper for the children after choir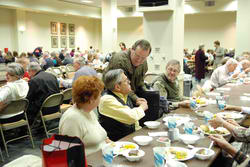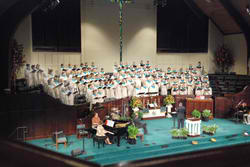 practice, Wednesday night supper (one of my favorites), greeter, power point for contemporary service, traditional service, sunday night service and the shine your light women's ministry, nursing home visitation and Christmas in April.  Now, I did want to be part of the choir, but Joe Pat Cox must have heard me sing and I was banned.  Okay, that is not true, he actually said he could teach me to sing in two lessons.  I need to take him up on that before I leave.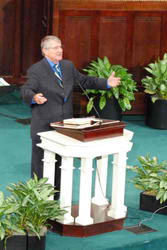 After my divorce in 1995, I stopped going to church for a few years.  My boys were the reason we started back.  They wanted to know why we weren't going anymore.  I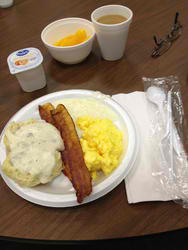 said, "What?  I had to fight you tooth and nail each week to get you there."  The only thing that saved me when they were younger was the fact that Frazer served Krispy Kreme donuts at breakfast.  What child doesn't like Krispy Kreme donuts?  After we got our breakfast, we walked into the fellowship hall to sit down and eat.  The first familiar face I spotted was Clayton Thompson.  Then Rolena Prescott, the woman in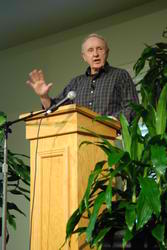 charge of the kitchen came up and gave me a hug.  Then to my surprise, Dr. John Ed Mathison, the senior pastor, came up to me, gave me a hug and said, "Welcome back!!"  I started to choke up.  How could a man who is in charge of a 8,800 member congregation remember me, and remember I had left.  John Ed had been the senior pastor of Frazer for 36 years and retired in 2008.  I ate breakfast with him almost every sunday until he retired.  In all the years I have known John Ed, I never heard a negative word come from his mouth.  I think of him often, and I miss him dearly.
I have seen my church change in many ways over the years.  People coming and people leaving.  The building expansions and the change in leadership.  When John Schmidt left, they hired Patrick Quinn to be the teaching pastor for the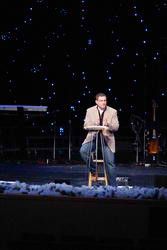 contemporary service.  I have been a part of the production team since Patrick started and I will miss his great, energetic messages.  Fortunately, I will be able to watch the 11:00 a.m. service via the internet.  They do a live streaming of this service and I will be tuned in when I have internet.
Sitting up on my perch, running the camera for the last time, I was looking around at the people in their seats.  (During times I didn't have to be alert.)  There are a lot of people who I recognize after so many years of being here.  There are even more people I will miss.
Frazer, I thank-you for being a part of my life for so many years, and never giving up on me.  In the event I do happen to stop in Montgomery for a visit during my journey, I will come by and say, "HEY Y'ALL!"  I will even "run camera" if you want me to.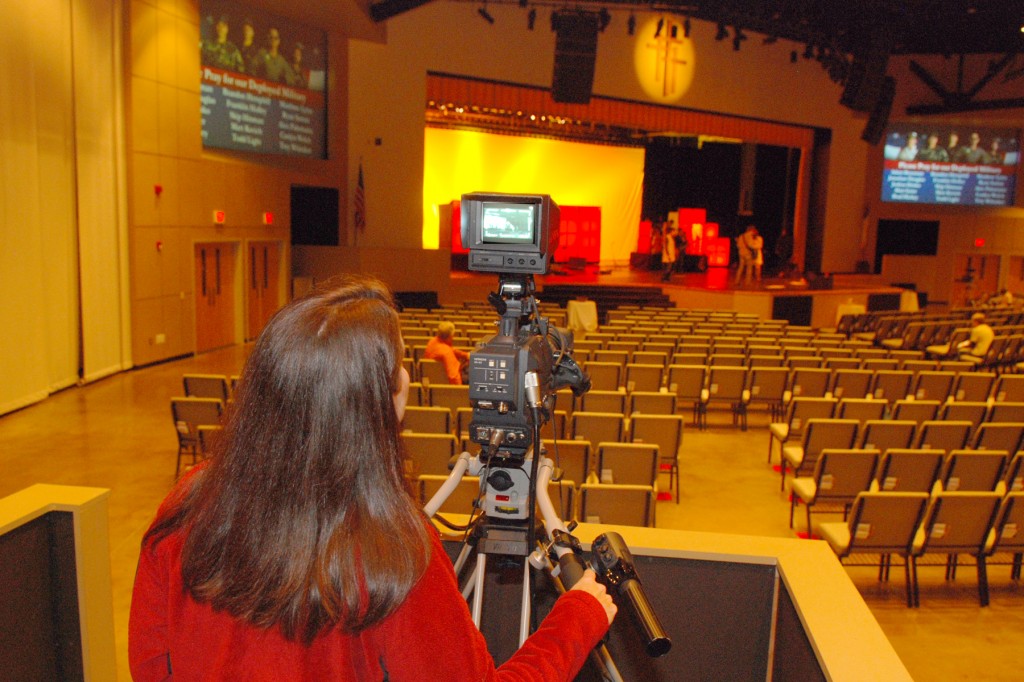 This is my journey…
A BIG THANK-YOU TO LEE WERLING FOR THE USE OF HIS PHOTOS!
[donation-can goal_id='keep-me-on-the-road' style_id='default' show_progress=true show_description=true show_donations=false show_title=true title="]