Driving down Highway 76 in North Georgia, you will pass through a small town named  East Ellijay. It is another quiet, clean southern town with friendly people but, when you drive around the corner and look up on the hill there is something you will never see anywhere else.  The hill behind this particular BBQ joint is COVERED with little wooden pigs with peoples names written on them.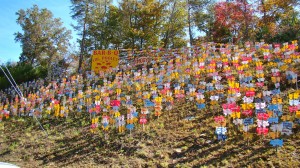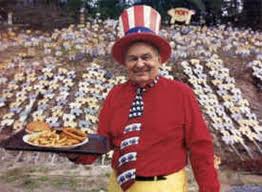 When Colonal Poole opened the BBQ shack there was no indoor seating, and by state law he wasn't allowed to have a sign by the road. He decided to put pigs on the hill with his families names on them. Soon customers were wanting their names on a pig. To qualify for a pig one needs three things, "An honest face, good intentions, and $5.00." To date there are over 3000 pigs on the hill.
As I walked around to the front of the place, I noticed his "Pig-Moby-il" parked in its prominent  place . This vehicle is a '77 Plymouth Volare with a pigs snout, tail, hump and ears! He couldn't get a billboard on the highway but, he got one on wheels!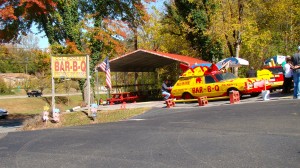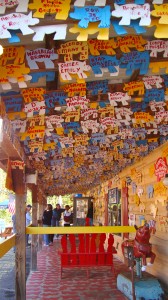 I got in a line that I thought was the line to get seated but, it was where you order your food. Outside. A woman will take your order and hand you a ticket. You then get to go inside where you are met by the cashier. After paying for your meal you are told which side of the restaurant to sit on. A few minutes later a lady is standing with a plate in her hand and calling out your order, you raise your hand and she brings your plate to you.The walls and tables are covered with pictures of Colonal Poole, his restaurant and the politicians he has fed over the years. In 1992, Oscar received the title "Colonel" from the governor of Kentucky. Many claim that "as Colonel Sanders was to fried chicken, Oscar is the Colonel of Bar-B-Q!" (No, he is not really a Colonal)The BBQ was good, the mac and cheese was super cheesy, just the way I like it and the brunswick stew was good and chunky, but the sauce….OH the sauce! I could have drank that through a straw! It couldn't have gotten any better if they tried!
Next time you are in North Georgia and you are hungry, stop by Poole's BBQ. There is plenty to look at while you are waiting but remember, they are only open Thursday through Sunday.
This is my journey…
[donation-can goal_id='keep-me-on-the-road' style_id='default' show_progress=true show_description=true show_donations=false show_title=true title="]