Christmas, 2014, was an unusual Christmas for me.  I had no family to celebrate with, and I was in the process of making new friends here in Colorado.  My fellow co-workers and I decided to get together for a Christmas breakfast in the only place open, Ihop.  Yes, Ihop.  I'm not a fan of pancakes nor chain restaurants.  We all agreed to go in our PJ's, and after breakfast I drove "home," (room I was renting) and watched Netflix for the rest of the day.
Fast forward to Christmas, 2015.
Towards the end of October I found out we were going to be extended, I immediately made reservations at the Stanley Hotel for Christmas Eve. I was not going to spend another Christmas on an air mattress watching Netflix.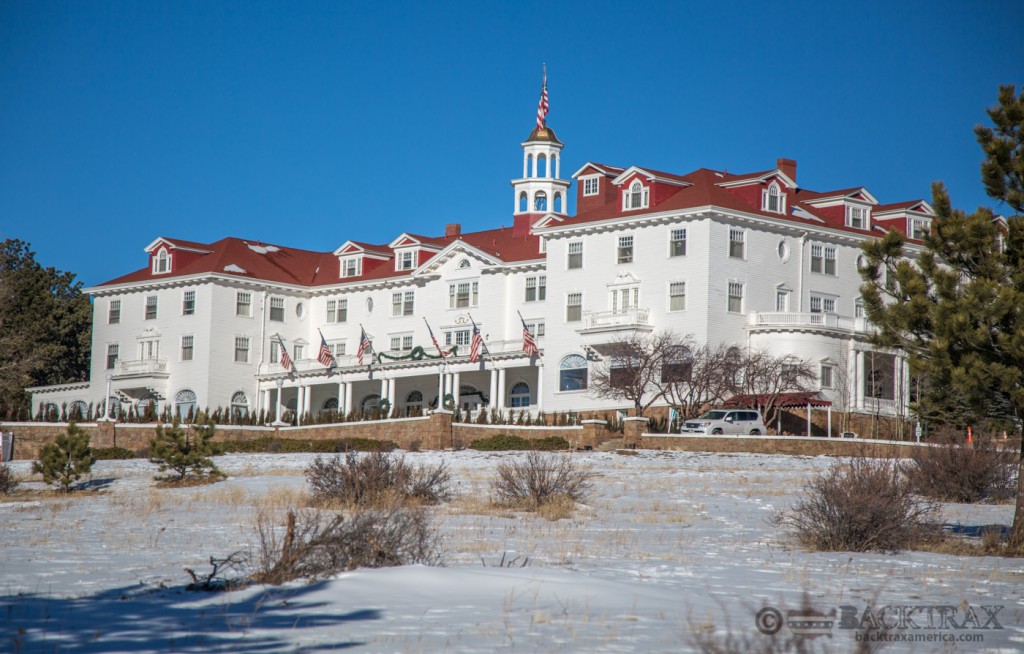 The Stanley Hotel was built by Freelan Oscar Stanley, who had suffered from tuberculosis and was told the dry, mountain air, was the perfect cure.  F.O. Stanley lived on the East coast, but fell in love with the sheer beauty of the mountains and resolved to return every year.
In 1907, construction began on the 48 room hotel, and was completed July 4th, 1909.  F.O. Stanley built the hotel for his upper-class social circle from Newton, Massachusetts.
The hotel was sold a few times over the years, and one time, Stanley bought it back out of foreclosure, before selling it again.
Probably the one thing the Stanley Hotel is most famous for is the movie, "The Shining." People mistakenly believe the movie was filmed at the hotel, it was not.  Stephen King spent one night in the hotel in 1973,  just before it closed for the season.  Stephen, and his wife Tabitha, were the only guests that night at the hotel.  They stayed in room 217.  That night, Stephen had a nightmare involving his son who was running down the corridor as he was being chased.   That dream gave Stephen the basis for the book.
One of my favorite movies, "Dumb and Dumber,"  was filmed here.  The hotel Lloyd and Harry stayed in that is supposed to be in Aspen, Colorado, is actually the Stanley Hotel.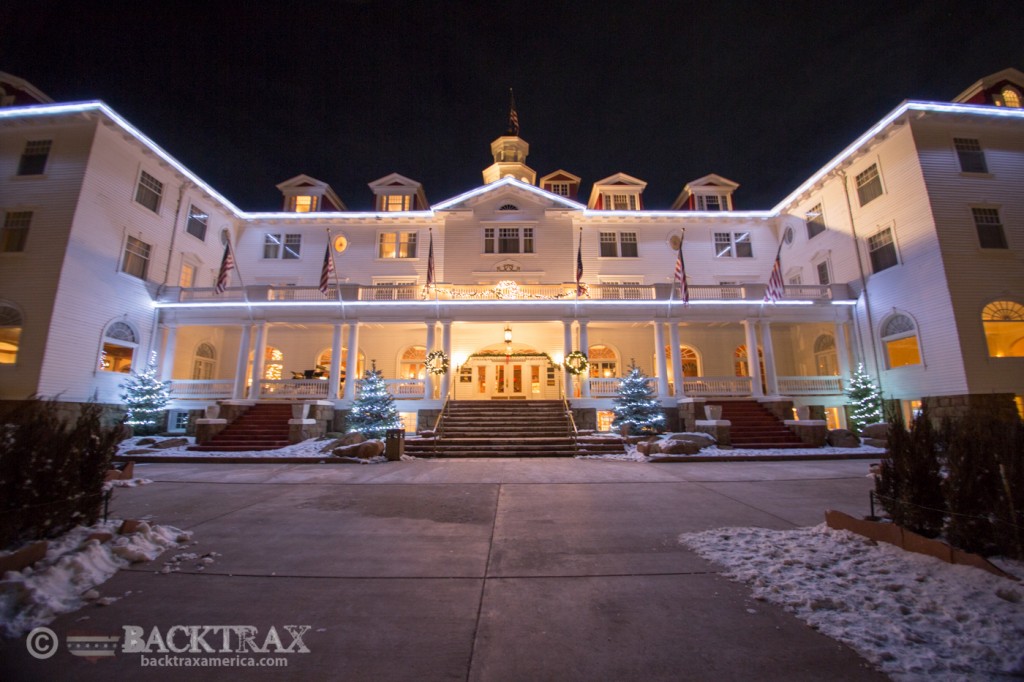 Christmas Eve found my friends, Angela, Mike and myself, in the Whiskey Bar at the Stanley Hotel for a late dinner and drinks.  Afterwards, we wandered around the historic hotel, which appeared to be filled to capacity just as the bar was.  As my hand trailed down the beautifully polished banister, I wondered how many hands before mine did the same.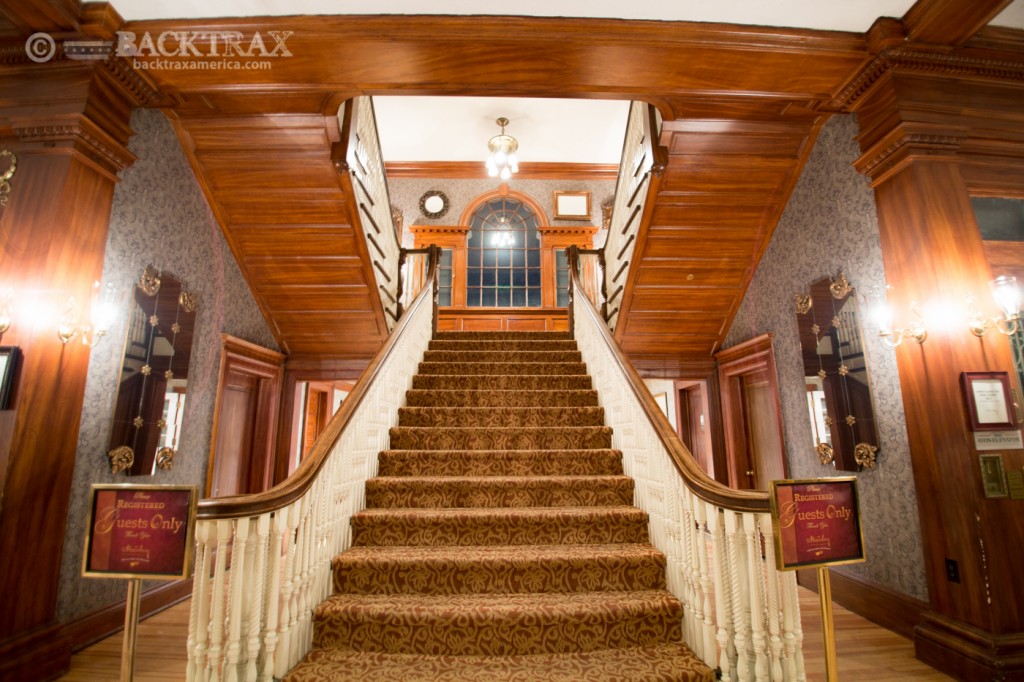 The night had come to an end.  I curled up in my king sized bed, in my king sized room, facing the mountains that I have fallen in love with and, drifted off to sleep.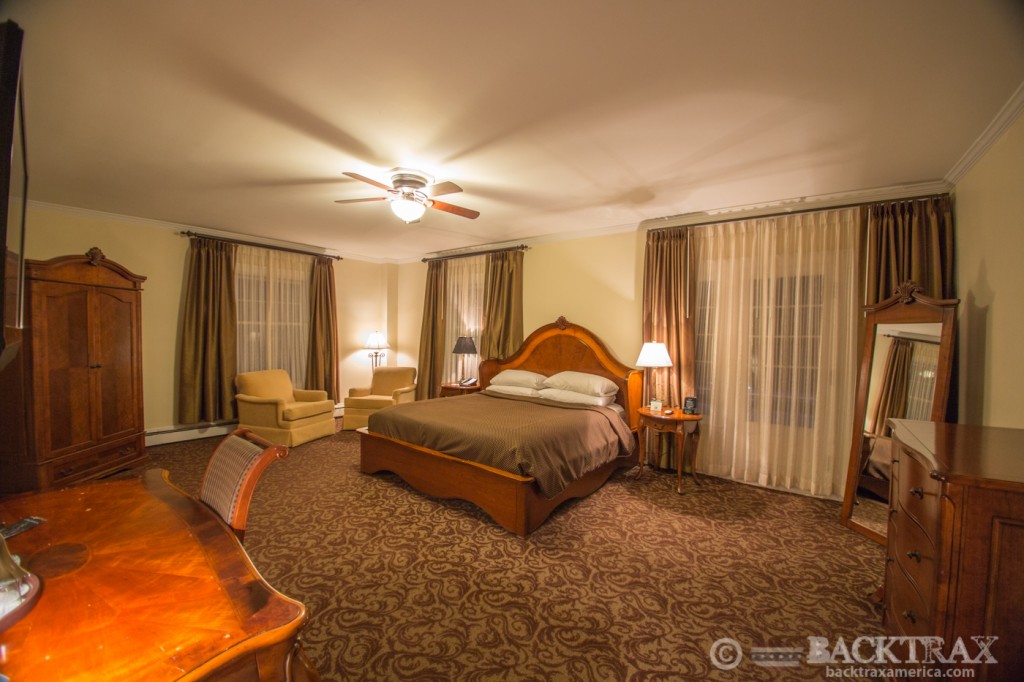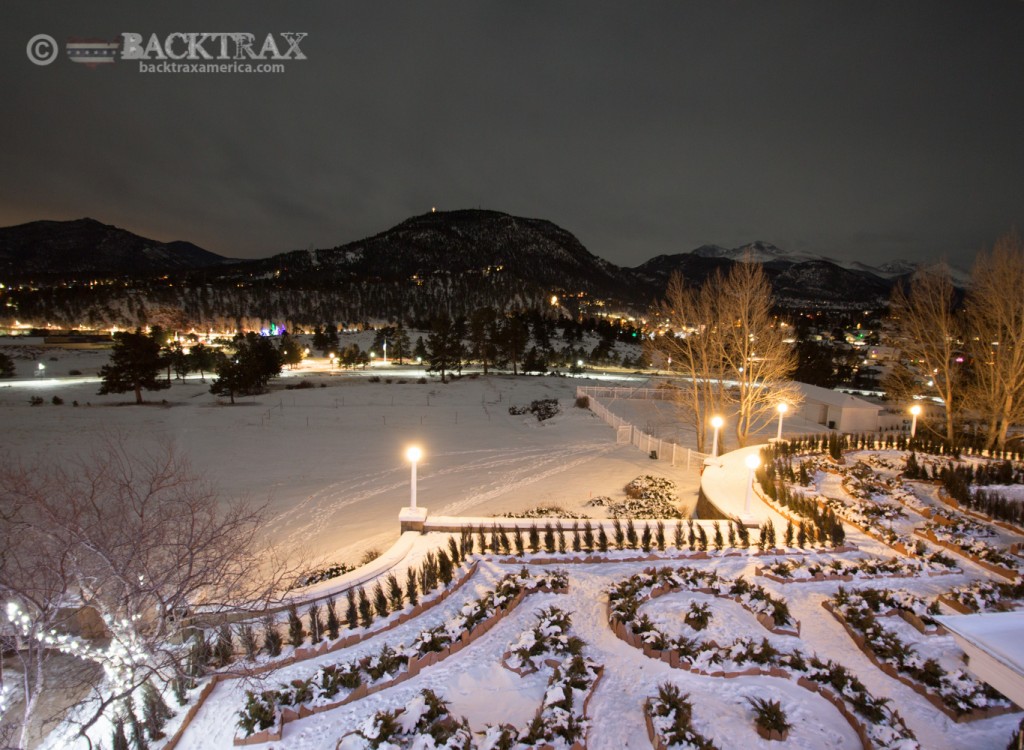 I was awakened early on Christmas morning with a phone call from a very dear friend from Alabama, Slim Dicks.  With nothing else to do after the welcomed chat to catch up, I turned on the TV and found a channel that played a loop of  The Shining.  So, I watched it. Again.  Too bad I couldn't find Dumb and Dumber!
Angela, Mike and I, had reservations for the Christmas Day Brunch at 11:00.  This was not a "Golden Coral" buffet, this was a $70.00 per person kind of meal.  "This better be good," is all I could think about, and expected nothing less out of the Stanley Hotel.  I was not disappointed.  There was a fruit, salad, cheese and sausage table, a side dish table, a bread table, dessert table, seafood table and a carving station.  For the half pints (children,) there was  a row of tables that were at a child's height with foods that children like, chicken tenders, mac and cheese, etc.  I certainly could not eat $70.00 worth of this spectacular spread, but then again, I wasn't working on Christmas Day, they were, and it was well worth the price!  The service was impeccable, the food, delectable,  and I will have to say, the best prime rib I have ever had.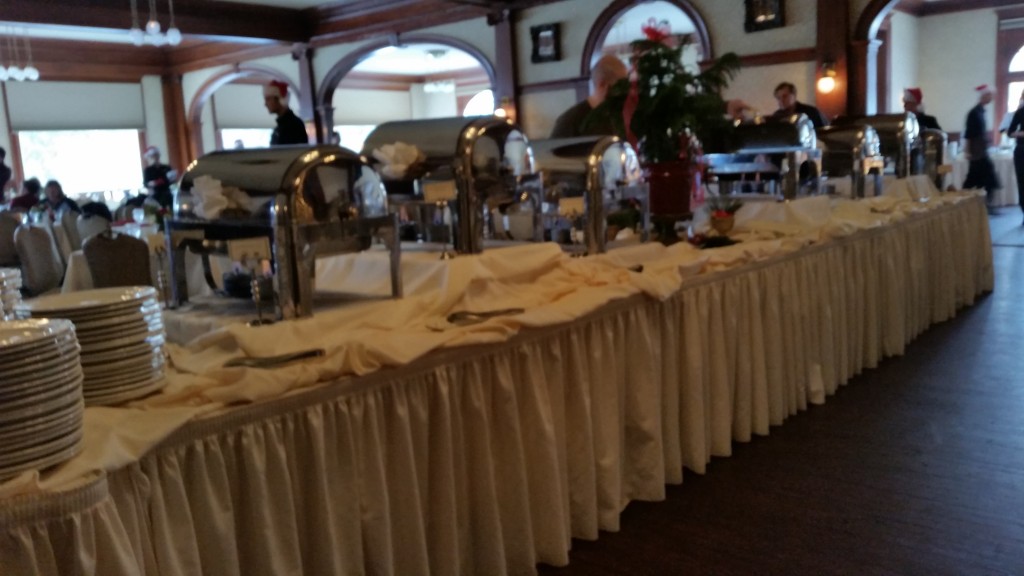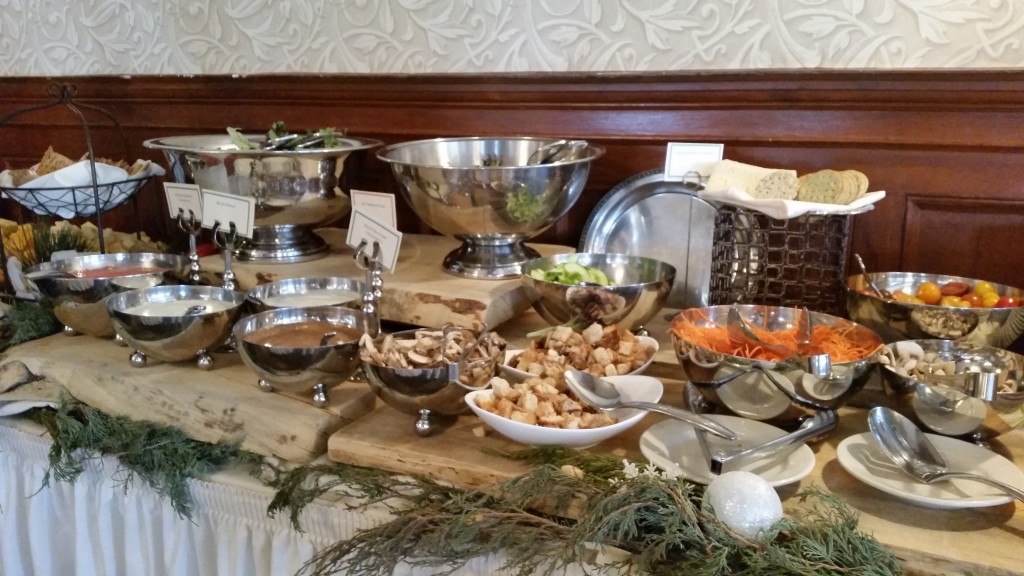 All of the food photos were taken with my phone, and taken quickly.
Christmas 2015 was a large improvement over how I spent it in 2014.  The only way it could have been better would be if my boys were with me.