Backtrax tag line is, "Traveling Across America," but when an opportunity presents itself to spend 10 days hiking the Swiss and Italian Alps, you have a decision to make.  I decided to go back to Europe.
In June, we had a new member join our hiking group, her name is Catherine.  She spoke of an upcoming hike she was going on in the Alps, and needed to get some hikes under her belt.  When Catherine mentioned Italy and Switzerland, my ears perked up.  When she said there was room for one more person, my heart smiled and my pocketbook cringed.
I have had to turn down an abundance of trips since I've been in Colorado.  If I'm not working, I'm not making money, but this trip was the exception for me.  I requested two weeks off, mailed my check for the hike and booked my flight.  I now had to wait 6 weeks. (Patience has never been, nor will it ever be my virtue.)
July 22, at 8:32 a.m., I landed in Milano.   Four of us decided to go early so we could take in a little of Milano and recover from the jet lag.  I found the other 3 ladies and the first part of our journey began.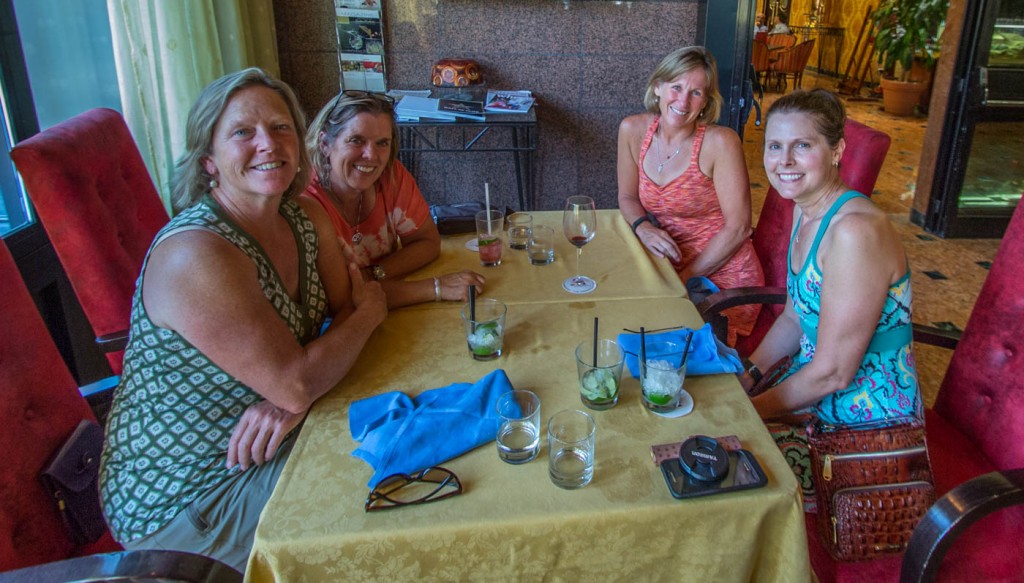 Catherine, Kim, Tasha and I took the train to the center of Milano.  Climbing the stairs to street level, I looked to my left, and there it was. The Duomo. (Say "Do ahh moe")  The streets of Milano circle the Duomo, revealing that this spot was the most central site in Roman Mediolanum.
In 1386, the Duomo was started, and it wasn't finished until 1965, almost 600 years later.  It is 520′ long,  302′ wide, and the highest point is 356′.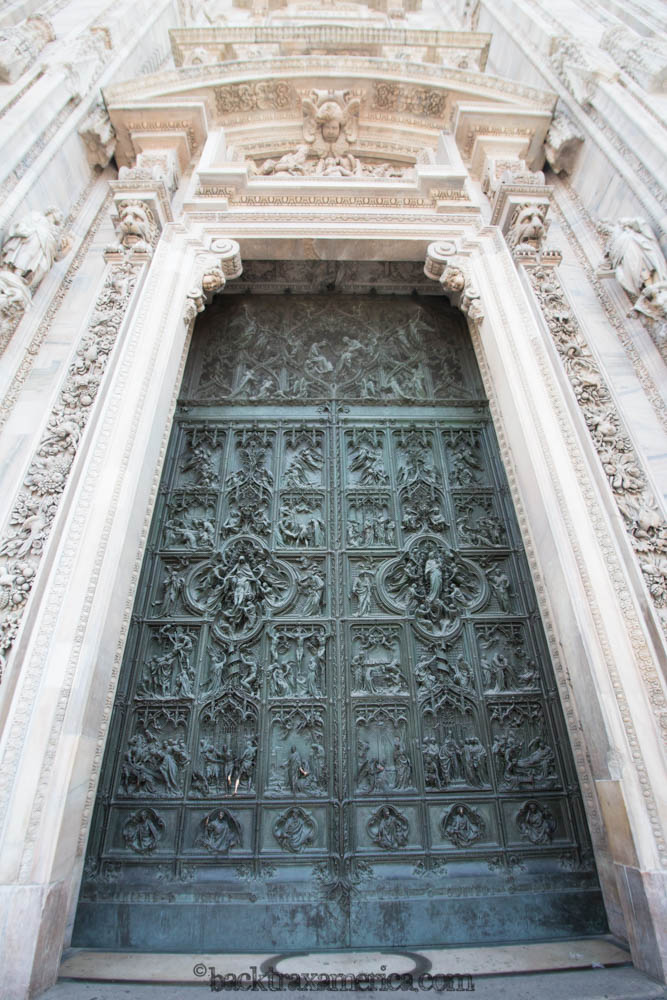 This door was spectacular, the size of it and the detail was stupendous.  You can see where people have rubbed the leg and hand for good luck.   Both the leg and hand are about head high on me.  The prior picture will give a better understanding of the doors size.
There are 135 spires around the top of the Cathedral, and each spire holds a different statue.
In 2012 a campaign was started to raise funds for the cathedral's preservation.  For a mere €100,000 ($135,220), you can "adopt" a gargoyle, and your name will be engraved under it.  There are 135 gargoyles around the rooftop which serve as drainage pipes.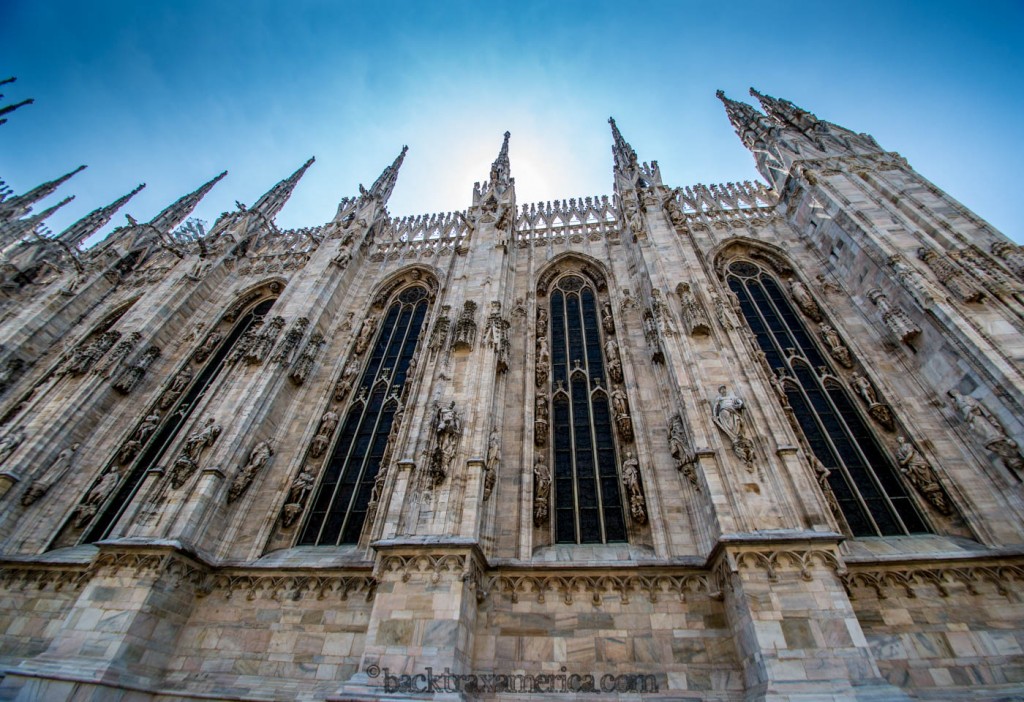 The Duomo di Milano is the 5th largest church in the world, and the second largest in Italy.
Saint Bartholomew Flayed (1562),  is the most famous statue of all the Cathedral.  The saint shows his flayed skin thrown over his shoulders like a stole.  (These two pictures were from my phone. I didn't want to change lenses.)
Believe me when I say my photographs did not do this place justice.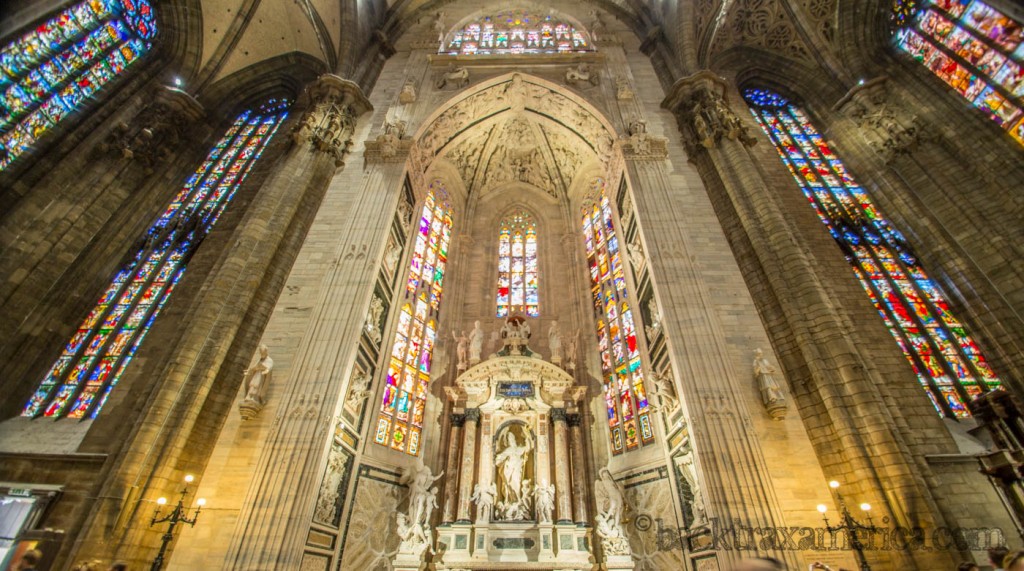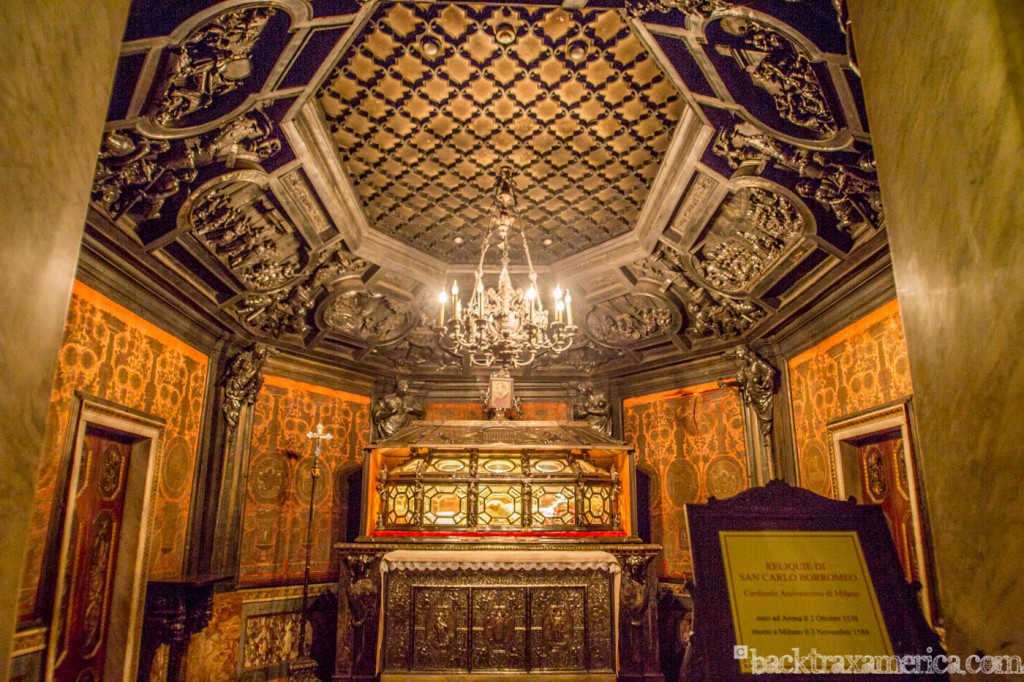 In the Piazza, to the right of the Duomo, is the Galleria Vittorio Emanuele II, which is one of the worlds oldest shopping malls.  It was designed in 1861 and built between 1865 and 1877.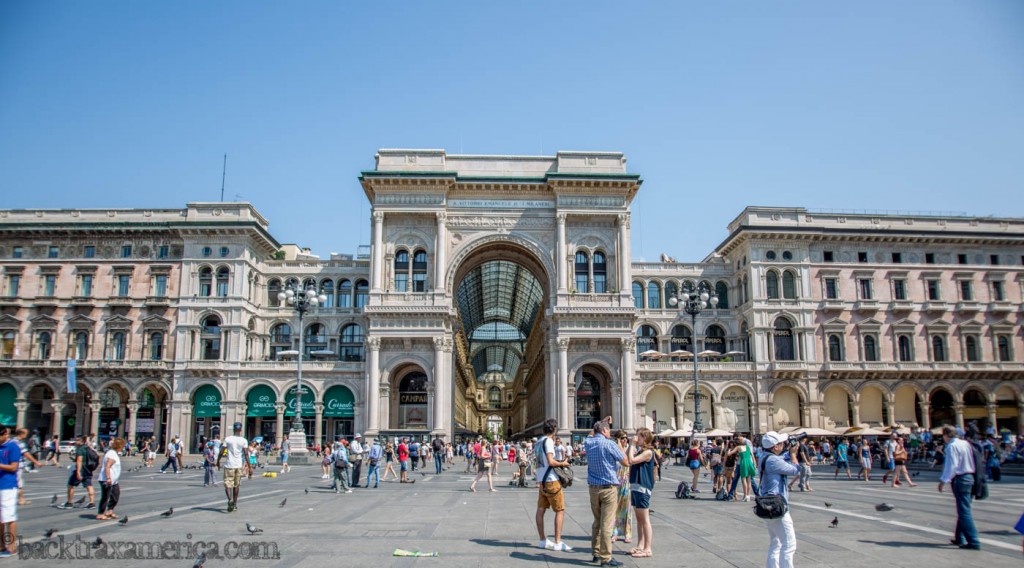 The Galleria is four stories tall and is home to some of the oldest restaurants and shops in the world.  The shops are on the high-end, Prada, Gucci, Versace, Louis Vuitton… you get my drift.  My purse strings did loosen up for one purchase here.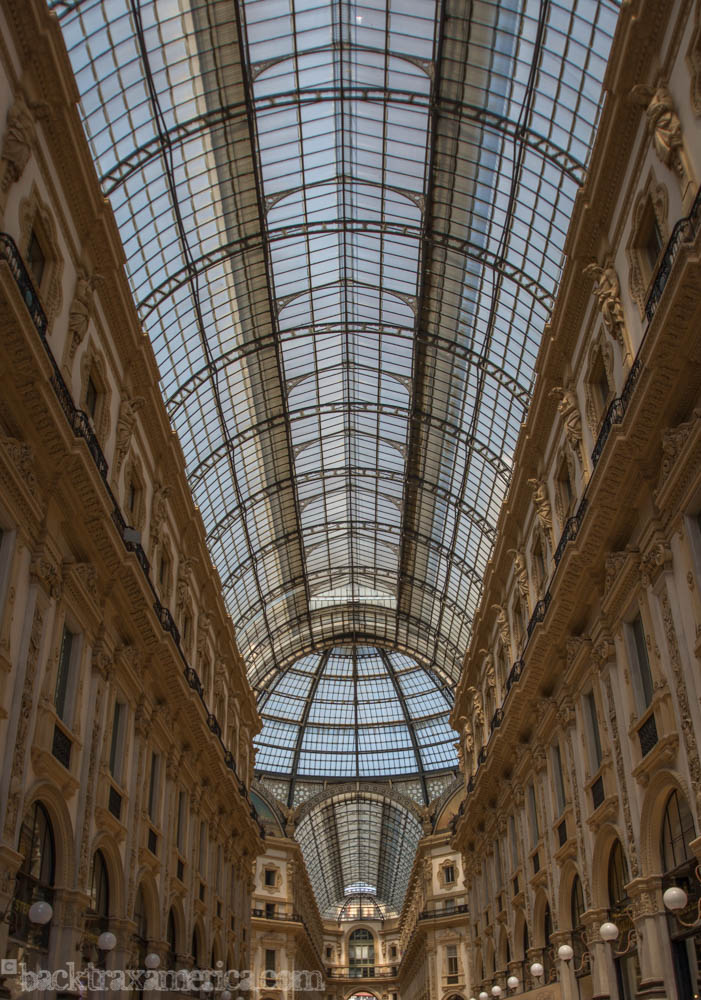 My first taste of real Gelato was in one of these shops. Fantastico!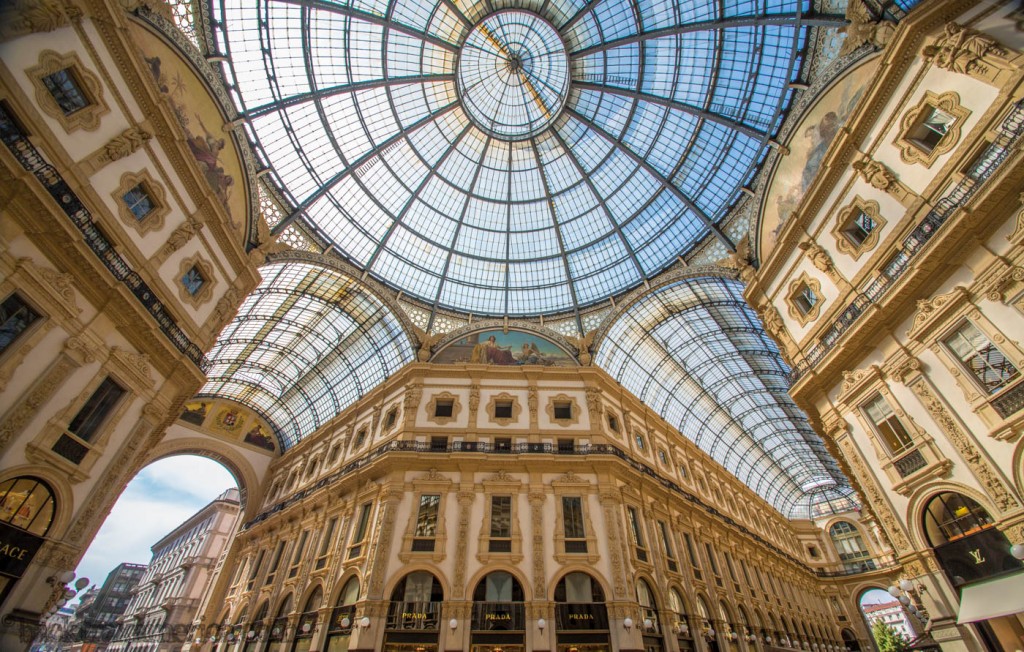 Travel tip:  When coming to the Piazza del Duomo (the square), be leery of two Africans who will approach you.  They will quickly put colored string on your wrists saying, "This is for Africa."  Then ask for €20.00.  If you give them less, they will say ugly things and give just as ugly looks. (A month later, I still have them on my wrists!)