The trek back to Italy began.  10 women were taking a trek of a lifetime via the Sbrinz route through the Alps.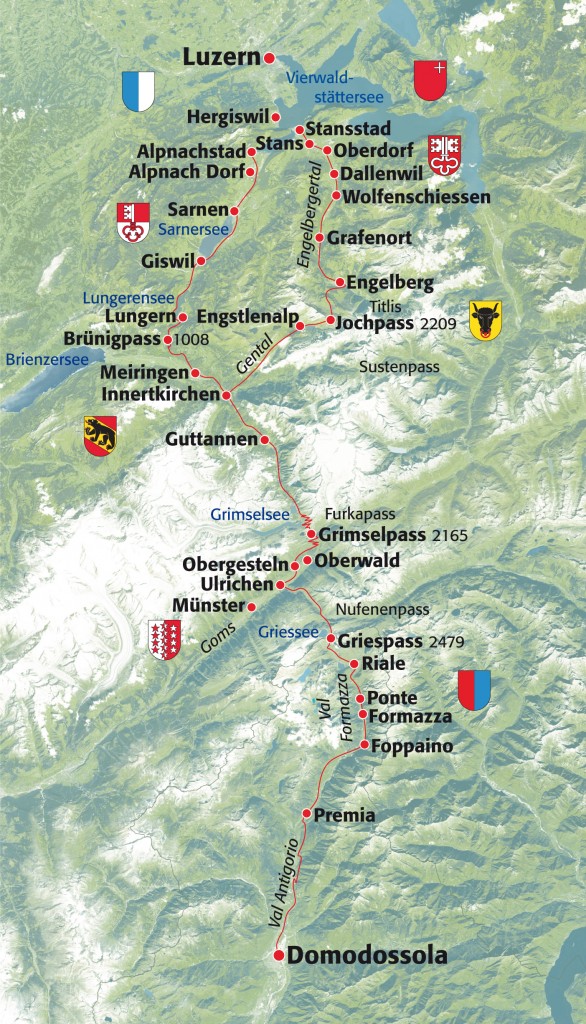 The Sbrinz Route is an ancient trade route from Luzern, Switzerland, to Domodossola, Italy, through the Alps.  Mules were used to carry the trade goods and also because they knew how to find the shortest route. The Sbrinz route dates back to the Roman times.
The Sbrinz Route is named after a hard cheese, Sbrinz cheese, made in the Engelberg Valley in Switzerland.  The cheese was used for trade along the route, thus the name Sbrinz Route.  This cheese is similar to parmesan cheese.
Sunday morning, July 26, with a blue, sunny sky and a cool breeze at our backs, the ten of us head out. We were told to bring our valuables with us.  It was a good thing I brought my 65 liter backpack.  I am now carrying a rain jacket and pants, food, 3 liters of water, 3 camera lenses (you never know,) remote for the camera, iPad, purse, solar charger, extra camera battery, Gorilla stick (tripod), hat, gloves, jacket, socks, passport, money, caffeinated protein powder (MUCH needed and packed in individual serving bags,) Sparks (again, MUCH needed,) trekking poles, butt/face wipes (they are versatile like that,) ibuprofen, small medical kit, mole skin, duck tape, blister band-aids, sunscreen, baseball cap, extra water, (in case my water bladder leaked,) shaker bottle for the protein and sparks, Carmex, Cuddle Duds, flip-flops, a Leatherman and an extra Buff.  Connected to the shoulder straps on the front, was my camera.  Probably the heaviest single item I brought.  My pack was not so affectionately named  "The Beast."  I put all of this stuff back in my pack when I returned home, just for giggles.  It weighed 47 pounds.
Our luggage was being transported from hotel to hotel, by whom, I had no idea.  I had to buy another suitcase, my big one was back in 'Bama.  I bought another Samsonite, a carry-on hard case.  It was just big enough to carry my trekking poles when I took them apart and placed them on the diagonal.  You can not carry trekking poles on the plane.  The suitcase will  now double as my camera bag when traveling with removable custom foam padding. 🙂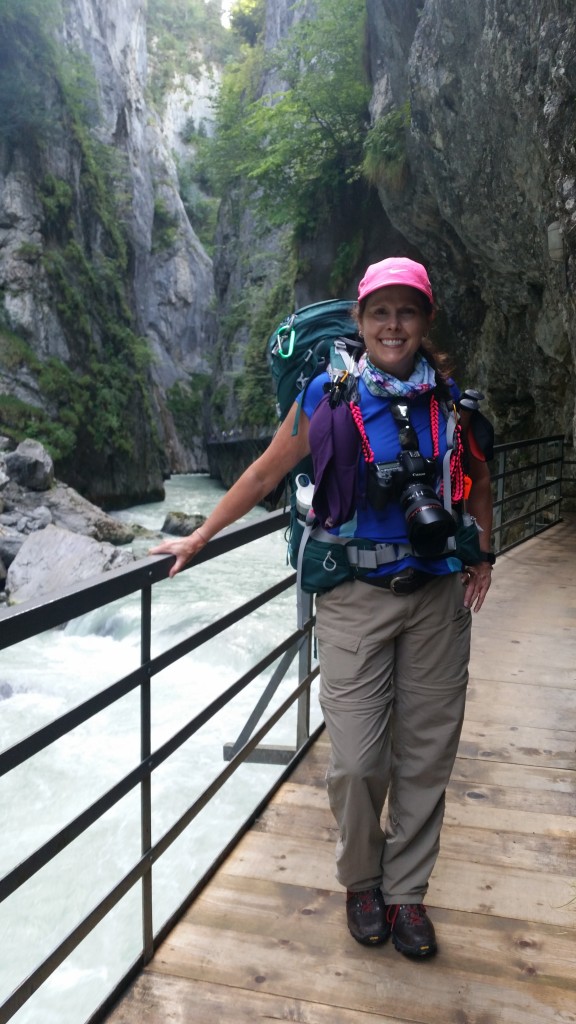 As we left Meiringen, we followed the milky, aqua colored water of the Aare river to the Aareschlucht.  For a fee of CHF 8.50 you can walk through the gorge on a walkway that tunnels through the gorge. Part of the walk is through the mountain and part is on a wooden walkway.  Worth the money!
Once we were out of the gorge, we continued via Sbrinz Route, Wanderweg 40 to Guttannen, Switzerland.
Total miles on our first day was 11, according to my Fitbit.  Not an exhausting amount, but with 47 pounds on my back, I was probably the happiest to see our hotel.
After a much-needed shower, I tamed The Beast.  My suitcase is NOT a zippered case and it locks.  My "stuff" is insured, so, back into the suitcase it went.  The Beast lost 8 pounds. I was now a happy hiker!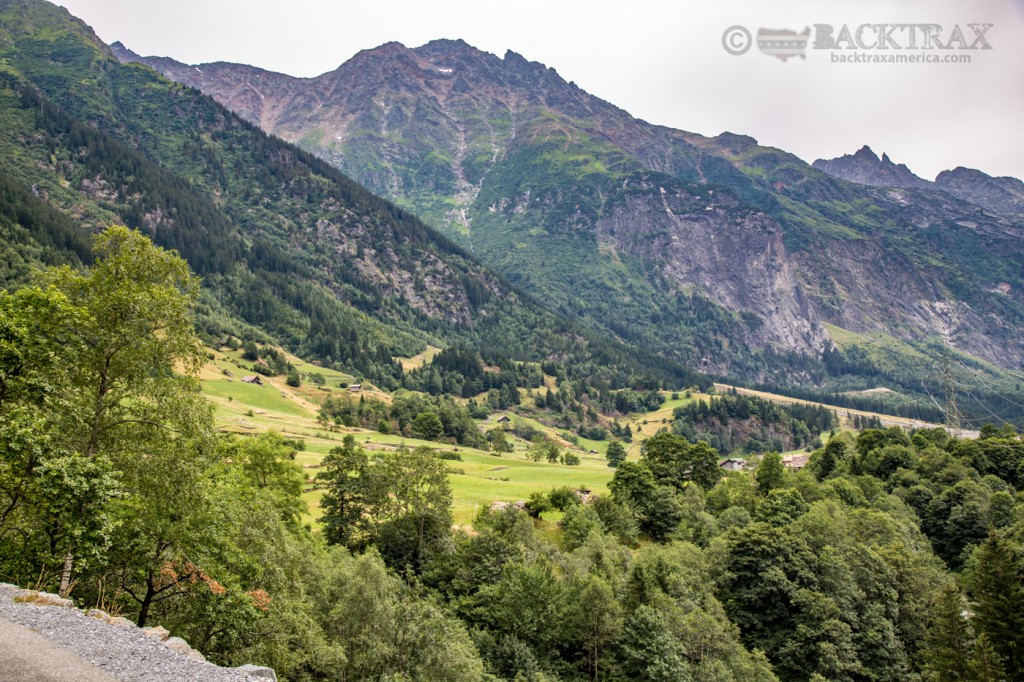 Travel Tip: Don't EVER check luggage that zips closed.  They can easily be opened, even if locked.  The perps can rummage through your belongings, take what they want, then close it back up like it was never touched.  There are YouTube videos showing you how this is done.