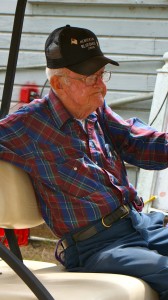 Back in June, I shared a story with you about a man named Rex Locklar. If you remember, he has a love for Bluegrass music and holds a festival every April and October on the old school grounds. I told Mr. Locklar I would come back for the Bluegrass Festival in October and I did. It was a fantastic day!

Mr. Locklar's "Howlin in Henderson" Bluegrass Festival is a two day event, and people from all over the country start showing up the weekend before. I saw more RV's there in the school yard than in any park I have been to, and there were a few tents also.
A couple of weeks ago I went to the Bluegrass Festival in Titus but, this one was totally different. In Titus, the players were in "bands" and got up on the stage. In Henderson, the players just played.
If you had a guitar, fiddle, banjo, bass, mandolin or harmonica you played. It didn't matter with who, you just sat down and started "picken" with the rest of the players. I saw at least eight different groups picken with each other, and I would see one person playing with one group and a little while later, they were playing with another gourp.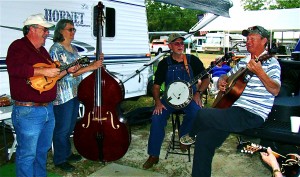 Ol' Rex told me it was the people that made Bluegrass so special and I will have to agree. I shared with you when I went to the Bluegrass Fest in Titus how friendly the people were. In Henderson, they were even friendlier. There is no such thing as a stranger at this fest and several people came up and started conversations with us. That is my kind of fold. I have said before that we are all strangers at one point in our life but, that ends with the first "hello!"
The majority of the "pickers" were older but, there were a few youngins there, and they could out play any of the elders. One young man, and I would guess he was around 15 or 16, could play with fiddle, guitar, mandolin, and that was just what all I saw him play. I'm sure he had a few more instruments up his sleeve that he has mastered. One young lady around the age of 10 or 11 could out play her Grandfather. It was obvious these kids have a tremendous love of this music, and I could see why, my toes were tappin all day.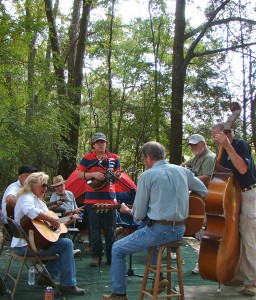 What I find intriguing about Bluegrass music is how they play. One person will start to play a song without saying the name, and the rest of the players will just chime in. Do they really know all of these songs or do they play whatever and it fits in? I'm curious about that.
We listened to one group that started with four players, and by the time we left them there were 11 players. They were really good but, I heard another group start up around the corner. After we got comfy
in our chairs, a lady scooted over with her wine glass and told us the young man that was about to play was Scott Haggard, Merle Haggard's son, and he could sing!
As we said good-bye to the people we met, we were asked to sign a petition to keep the festival there at the old school yard where it has been held for the past 48 years. Apparently after Mr. Locklar dies, some people want to tear down the old school and stop having the festival in Henderson. There were plenty of signatures on that tablet that agreed. Keep the Bluegrass Howlin in Henderson!
This is my journey…