Henderson, Alabama, population 80, and home to one fascinating man, Rex Locklar.  As we pulled in and parked just past his old country store, he was waiting for us outside, seated on his bench watching the cars go by.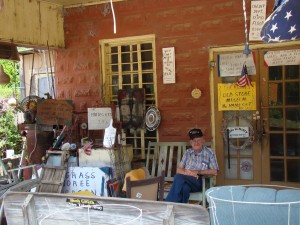 I introduced myself and sat down across from him.  He immediately got up and said, "Just hold on, I'll be back in a minute."  When he returned, he was holding newspaper clippings, pictures, and the resolution presented to him by the State of Alabama.
Rex was born in 1926.  His daddy was a farmer and grew cotton and peanuts.  His mother ran the family store and loved every minute of it.  Mornings were spent helping his daddy plow by mule, and in the afternoon, he helped his momma at the store.  When his mother died at the age of 97, Rex closed the store. Now, it is more of a museum for him holding a lot of memories.
Rex told a story from a couple of years ago when a man pulled up to the store and didn't speak English.  He pointed to the oil drums out front and said, "Oil?"  Rex said, "Yes".  They walked inside the store, and the Mexican pointed to the old fashioned cheese cutter and said, "Cheese, cheese."  Rex said, "Yes, cheese", then pointed to the meat case and said, "Logne." and Rex said, "Yes, bologna."  The man then walked over to the guitar that Rex's friends gave him on his 75th birthday and picked it up.  When he started to play, Rex just smiled.  It turned out the Mexican was a professional Spanish guitar player from New Orleans and later featured Rex on his show.
At the age of 18 Rex was drafted into the Army and shipped to Pearl Harbor during World War II.  Lucky for him, he arrived after Pearl Harbor had been attacked.  While stationed there, Rex wrote his first song called "Just Plain Ole Country."  I tried to talk him into singing it for me, but he said he doesn't sing anymore. When he returned to Alabama, he married his sweetheart Faye whom he'd met during his grade school years.  They have been married for 65 years now, so I asked him what the secret was to a long marriage, and he said, "I guess it's love."
After the military, Rex became a pilot, but his wife didn't like him flying planes, so he stopped and bought a traveling carnival.  He said that was the hardest, dirtiest work he had ever done, and it lasted a year.  He continued to help his dad with the farm, and Faye worked with his mom at the store.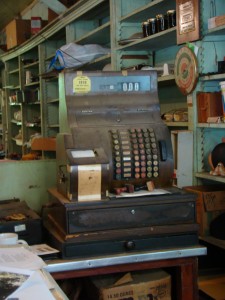 Rex has had a love of music from an extremely young age. His father played the fiddle, and Rex still has his daddy's fiddle, and he showed it to me proudly.  Rex taught himself to play the guitar and the Kalamazoo Lap Steele guitar.  He laughed and said he drove to Art's music store to buy the Steele guitar and bought it on credit.  That is something people just didn't do back then, but he wanted it bad.  Back in those days, everyone gathered at someone's house, and they would play bluegrass music.  The music was played in the front room, and people would dance in the hallway.  Rex told a story that once so many people showed up for the music that people had to sit on the beds in the rooms off of the hall, and the weight of all the people broke one of the beds.  Instead of fixing it that night the family slept on it where it was.  In the morning, the father went to repair the bed and discovered the family cat had suffocated under the weight.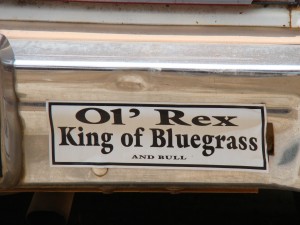 For the past 47 years Rex has hosted a Bluegrass festival in Henderson every April and October.  When he was a youngster they listened to country music, but Rex became interested in Bluegrass because the people were so friendly and close.  He said he remembers little kids coming to play their music, and some of them play at the Grand Ol' Opry today.  "You can learn a lot from the little ones" Rex said.  This past October Rex was presented with a Resolution from the State of Alabama proclaiming he was "The Father of Bluegrass" for Pike County.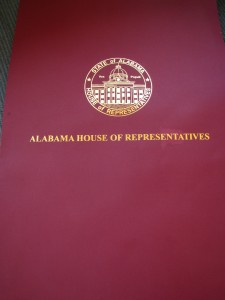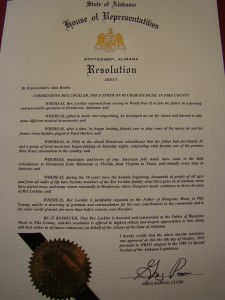 The schoolhouse where Rex met his wife is the setting for the Bluegrass Festival every year.  Time has taken its toll on the old building, and he doesn't have the resources to fix it up.  A storm came through a few years back and blew part of the roof off.  The back half of the old schoolhouse is covered with blue tarps, and he asked that there aren't any pictures taken of the "rotten parts."  The walls are covered with pictures taken over the years during the festival.  Most of the pictures are the good old black and whites taken in the 1960's, and he can tell you a story about each and every one of them.  He has one picture on the wall of a boxcar in Goshen, Alabama.  The box car is the jail and Hank Williams Jr. was locked up twice in that jail.   He  used to come and play at the festivals all the time.  Seeing all of the history in that old schoolhouse and the condition it is in now made me sad.  I wish there was something I could do for him.
I will not forget Rex, and I plan on going back to Henderson this October to attend his Bluegrass Festival. For a man who has essentially lived in one town his whole life, he has accomplished more than most people I know.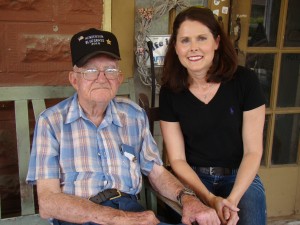 This is my journey…