I don't know about you but, when I go on a "vacation" I LOVE to eat. My healthy eating habits go out the window. I don't know how I will handle this when I hit the road because I love trying as many different things as possible. I will figure it out when I get to that point I guess.
As you can see from my posts while up here in Wisconsin, it's all about the food. Kopp's Custard, Butter Burgers, Brats at Miller Park, Friday night Fish Fry, you name it, I love it. When I come home I cook for my family, and as you know, I love to cook, I love that they enjoy my cooking. I myself would rather eat out and try the different foods that I don't get at home.
I was told today by one of my Aunt's neighbors, who just got back from a two-week vacation to Italy (my dream destination) that her husband's family owns a pizza restaurant in Milwaukee. Family owned since it opened in 1954, and just like a Friday night Fish fry, if you aren't there before 5:00 you will wait for one to two hours to get a table.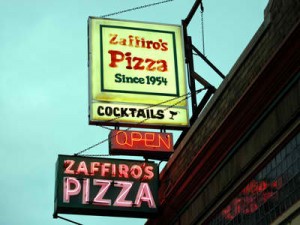 Zaffiro's is the name of the pizza joint, and I will be skipping out on the second Fish Fry this Friday so I can try the pizza. I was planning on driving home Friday, but Kopp's Custard and Zaffiro's wins out; I am staying an extra day.
zaffirospizza.com
Before one of my BGF's, Bryan, moved we had grilled out almost every night. Bryan loves the stadium Brats. I prefer the good ol' Johnsonville Brats. Being from the land of beer, cheese and brats, there is only one way to prepare them in my opinion, boil in beer and THEN grill until crispy, not burnt, crispy. I remember get-togethers at Grandmas where the brats were boiled in a big pot on the stove in beer and onions,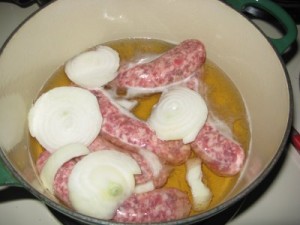 and then one of my Uncle's would grill them to perfection. Grandma always made her German potato salad and deviled eggs. That was some good eats! Oh, the good ol' days…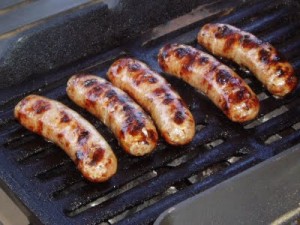 I have decided that along my travels, I will collect recipes from the various people I meet and spend time with. These recipes will be indigenous to the area and will reflect their culture and customs. In the end, a cookbook will be compiled and put to print. I already have the name for the book, "Eating across America", because that is what I will be doing; it may be a small part, but a part none the less.
As a child, food was the enemy, I liked very little of it. As an adult, it is still the enemy, I like too much of it. Moderation, moderation, moderation I heard is the key. For as long as I can remember dinner was always a sit down meal. You sat at the table and talked about your day while enjoying, or in my case struggling through whatever food was placed in front of me. I remember I use to hide the vegetables under the rim of my plate or in my napkin. It worked until the plate was removed or the napkin was taken from my lap. I miss the days of sitting at the table and talking, because I don't have that anymore.
I look forward to the journey I will be taking, the new people I will meet, cultures to experience and different foods to try. To me, this is what life is about. I hope you will be able to experience and learn with me along the way.
This is my journey…