This is another one of my favorites. You can't go wrong with chocolate and peanut butter!
Peanut Butter-Fudge Cake
2 cups all-purpose flour
2 cups sugar
1 teaspoon baking soda
1 cup butter
¼ cup cocoa
1 cup water
½ cup buttermilk
2 large eggs, lightly beaten
1 teaspoon vanilla extract
1 ½ cups peanut butter
Chocolate frosting
½ cup butter
½ cup cocoa
1/3 cup buttermilk
1 16oz package of powdered sugar
1 teaspoon vanilla extract
Combine first three ingredients in a large mixing bowl; set aside.
Melt butter in a saucepan; stir in cocoa. Add water, buttermilk, and eggs; stirring well.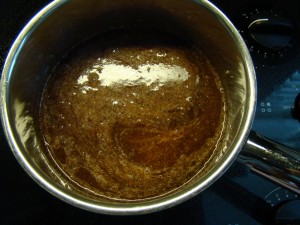 Cook over medium heat, stirring constantly, until mixture boils. Remove from heat; add to flour mixture, stirring until smooth. Stir in vanilla. Pour batter into a greased and floured 13 x 9-inch pan.
Bake at 350 for 20 – 25 minutes or until a wooden pick inserted in center comes out clean. Cool 10 minutes on a wire rack. Carefully spread peanut butter over warm cake. (I heat up the peanut butter to make it easier or you might tear the cake.) Cool completely.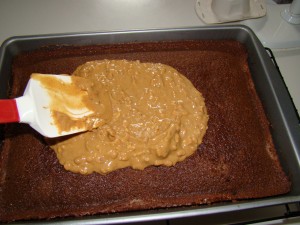 Combine all ingredients for the frosting in a medium saucepan,  stirring constantly until butter is melted over medium heat.
Spread chocolate frosting over peanut butter; cut into squares.
Makes 20 to 25 servings
Have plenty of cold milk on hand for this one!
This is my journey…