This past Friday, Bruce and I decided to head back to Montgomery a day early. We spent the week in Wisconsin visiting my family and the whole time I was sick. And I mean SICK! Eleven days of being sick and on Friday I finally felt like a human again, and we leave…Sorry Marlene and Tom!
We decided to drive through Illinois instead of Indiana for a change of scenery. I use to live in Illinois, so I know it is flat just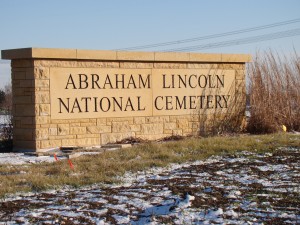 like Indiana with corn fields as far as your eye can see but, at least it was a different state. After getting through Chicago, we decided to take I55. Shortly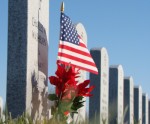 after being on I55, I saw a sign that read "Abraham Lincoln National Cemetery". I of course start with the, "Turn off here! Turn off here!" And he does. We got to the cemetery and drove around looking at all of the graves. At the entrance, there were four Hearse with the funeral processions behind each of them. That was sad. We got out of the truck to walk around and look at some of the tombstones, it was so cold it actually hurt, and we quickly got back in the truck. I felt sorry for the four families that lost a loved one.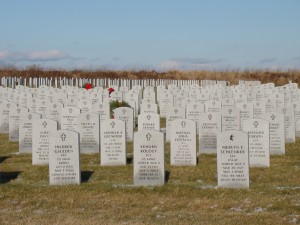 As we left the National Cemetery, we took a right onto Hwy 52 and stayed on the backroad until we got to Gardner, Illinois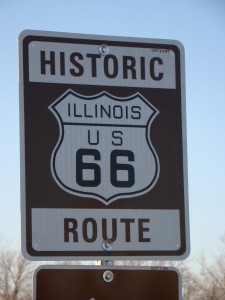 where we hopped back on the interstate. Well, just as we turned onto the interstate, I saw a sign that said "Route 66". I put on my glasses and looked a little more closely at the map. Route 66 was running parallel to I55 all the way to Springfield! I said, "get off at the next exit, we are going to take the Historic Route 66!" And we did. I now wished we had left earlier because dark thirty was rapidly approaching. Route 66 took us through some cool small towns that I have highlighted on my map as places I would like to stop in while on my journey. I will have to do that when my journey continues. You can read the history of Route 66 here. 
We stayed on Route 66 until we got to Bloomington, Illinois and then proceeded on the Interstate to Springfield. After checking into the Hotel, (and sneaking Callie in) I got online to find out the info on all of the Abraham Lincoln attractions. Abraham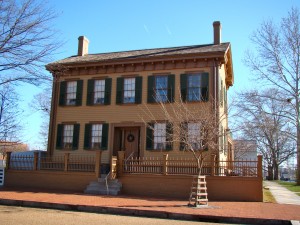 Lincoln is one of the top five people I would love to be able to sit down and talk to. He was an extraordinary man. All of the attractions opened at 9:00 in the morning and we still had an eleven hour drive from Springfield to Montgomery, so I picked Lincoln's home. Yes, I love history, and I had the opportunity to walk on the same floors that Abraham Lincoln walked on. My hand glided across the same banister that his hand had touched. For me, that is pretty awesome. I was amazed to find out that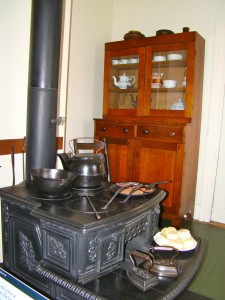 the kitchen in his home was as large as the entire log cabin he grew up in. Let me just say, it was NOT big. Maybe at best, 6′ x 8′. In the dining room where Mrs. Lincoln taught her boys proper manners, stood a glass cake stand. It was the real thing, and on it was Mrs. Lincoln's famous White Cake. She would bake this for Abraham when he was courting her. Click here to get the recipe.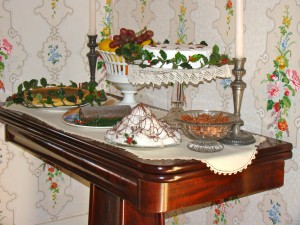 I wanted to go to the Library and Museum but, time once again was my enemy, we had to get going. We got back on I55 until we got to Litchfield where we once again took the back roads. As you know, I am not a fan of the interstate. I know they serve a purpose, and that purpose is to take you quickly from one place to another. I prefer the back roads. You get to see so much more than billboards and people in a hurry. We found a little Cafe in Central City that was decorated like the 1950's with the red sparkly vinyl metal chairs, and red checkered table cloths, and had an enjoyable lunch. On the interstate, it is chain restaurants and fast food, and on the back roads it is local restaurants, diners and cafe's.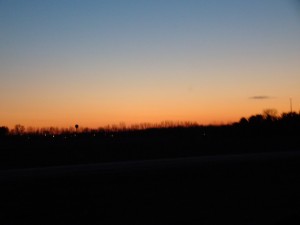 Once again, darkness was approaching rapidly and we still had a long
way to go, so back on the interstate we went. I tried a few more times to get Bruce to turn off the interstate to no avail, he was tired and wanted to get home. I will have to admit, I was looking forward to crawling between my own sheets, and on my own bed. Everyone knows how much I love my bed.
My next trip is already in the works, and I can't wait to get back on the road!
This is my journey…
[donation-can goal_id='keep-me-on-the-road' style_id='default' show_progress=true show_description=true show_donations=false show_title=true title="]