One of my favorite comfort foods when the weather starts to get chilly is Chicken and Dumplings. When I woke up this morning it was 51 degrees which is cool enough for me to get in the kitchen. By the time I started boiling the chicken it was 86 degrees. Not exactly the temps I like to be in the kitchen for 3 hours but, my tummy already knew what was for dinner.
So, here ya go,
Place a large roaster chicken in a Dutch oven and cover with water. Add 3 Bay Leaves, salt and fresh cracked pepper. Turn heat on high and once it starts to boil, turn heat down to a slow boil and cover. Continue the slow boil for an hour and a half or until the meat falls off of the bones.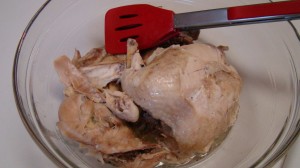 Remove chicken from broth and let cool slightly. Once cooled, remove skin and discard. Tear the meat into bite sized pieces.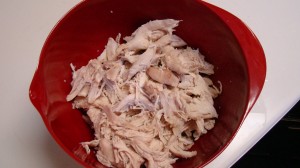 Take the broth and pour into the kind of measuring cup that separates the fat from the broth.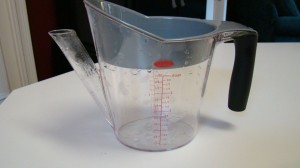 Pour broth back into the Dutch oven and dump the fat out.
For the Dumplings you will need:
3 cups self-rising flour
½ teaspoon poultry seasoning
1/3 cup shortening
2 teaspoons bacon drippings
1 cup milk
Combine flour and poultry seasoning in a bowl. Cut in shortening and bacon drippings with a pastry blender until mixture is crumbly. Add milk, stirring until dry ingredients are moistened.
Turn dough out onto a lightly floured surface. Roll out to 1/8-inch thickness; cut into 1-inch pieces.
Now, in the event you haven't cooked bacon in a couple of days and therefore you don't have any drippings handy, here is a little secret.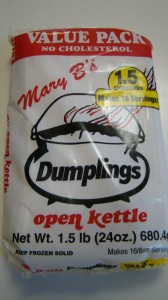 Yup! They taste great! Not as good as having bacon drippings but, it works for me!
Bring the broth to a boil and drop either the homemade ones in or add the frozen kind one at a time, stirring frequently to keep them from sticking together.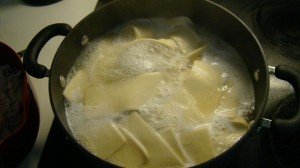 Once all the dumplings are added add the chicken and cook for another 25 – 30 minutes.
Mix up some cornstarch and water. Bring chicken and dumplings to a boil and add the cornstarch mixture a little at a time until the broth is thickened.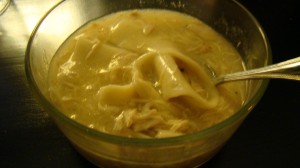 Enjoy!
This is my journey…