"Hi!  My name is Nanette and I'm a Pinterestholic!"
I have said many a nights, "let me check Pinterest real quick…"  Four hours later I realize the time, reluctantly close my laptop and turn out the lights.
On my latest Pinterest surfing adventure I came across a recipe for Jalapeño Popper Bites.  Being a huge fan of Jalapeño Poppers, I thought I would give it a shot.  I made a few adjustments to suit my taste and came up with this.
Jalapeño Popper Bites 
1 8 oz package cream cheese, softened
Cheddar Cheese, shredded
1 pound bacon
3 medium jalapeños
2 cans Crescent Rolls
Mix the softened cream cheese and a handful (the more the merrier if you ask me) of the cheddar cheese.  De-seed the jalapeños and dice.  Add the diced jalapeños to the cheese mixture and stir well.
Line a baking sheet with aluminum foil, separate the bacon, place on foil and bake in a 400˚ oven until crisp, about 12 minutes.  Remove bacon from foil and blot with paper towels, then chop when it is cool enough to handle.
Separate the crescent rolls at the perforations, cut each one in half from the widest to the narrowest tip.  Spoon a teaspoon or so of the cream cheese mixture on the dough, top with some chopped bacon.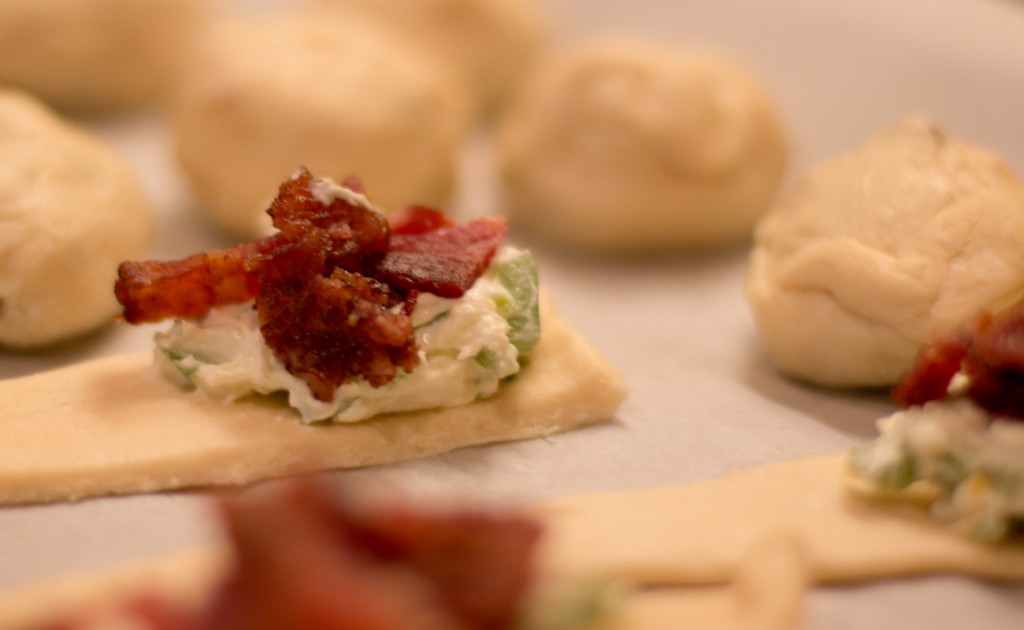 Seal the dough around the cheese and bacon, making sure to seal tight.  Cover the baking sheet with parchment paper, then place the dough balls on the baking sheet.  Bake for 13 – 16 minutes  in a 350˚ oven, or until dough is golden brown.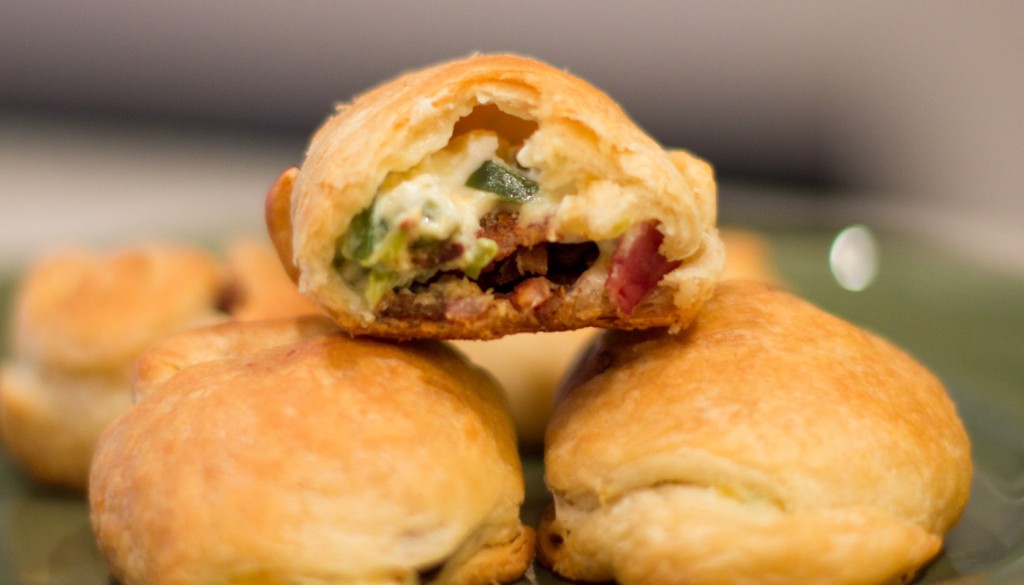 Makes 32