It's amazing how well you will sleep when you are physically fatigued.  One would think the next day would be dreaded, but I looked forward to it.   The Beast had been tamed, the coffee was strong and the breakfast was filling.  I was ready to roll, as were the other 9.
Todays trek would take us up and over the Grimselpass and then back down to Ulrichen, Switzerland.  Looking at the map, the distance was long, but it didn't look difficult.  We were all corrected by the end of the day…
The morning air was filled with a heavy fog.  The photo ops were abound, and I snapped a few favorites.  The nickname that I quickly acquired was, "The Lagger."  I was the one at the back, taking photos, then scurrying along trying to catch up with the others.
After a few minutes to collect our bearings, we continued on, Tasha was leading the way and I, as usual, was bringing up the rear.  We hiked, and hiked. And. Hiked. Then hiked some more.  The scenery took your breath away, the air, had a sweetness to it that I wished could be bottled.
The incline was steady  with the occasional leveling off, and as we rounded the reservoir Räterichsbodensee, we saw what we thought would be our final climb.  We were wrong.
We made it to the Grimsel Hospiz, which was not quite the summit, but at this point we had been hiking for 8 hours and still had another 5 or 6 hours to hike before we would reach our scheduled stop for the night.  Lori and Bevie made an executive decision, we would catch the Post (bus) for the final climb to the top of Grimselpass and then the descent to Oberwald, which was the last stop for the bus.  We would hike to Ulrichen from there, which was another three miles.
This was the view from the top.  I was in awe.  The water was a blue I had never seen before.  These three photos were from inside the bus, be easy.
We would have had to hike down this mountain, not on the road, but a trail.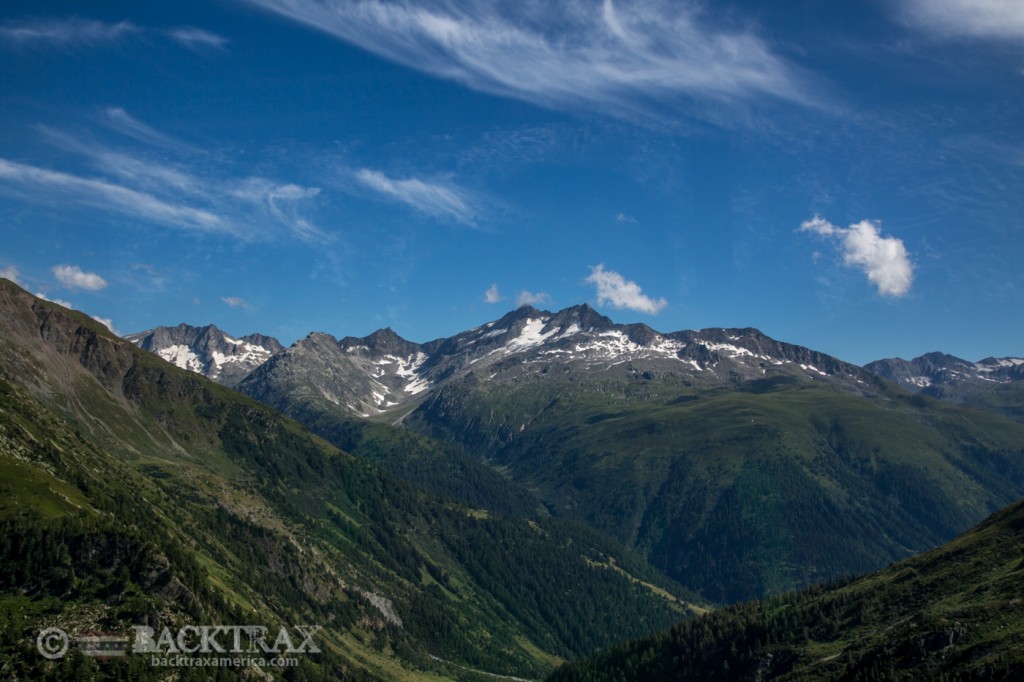 The rapid flowing, milky, aqua colored river guided us to Ulrichen.  Total miles this day, 15.
Travel Tip:  When choosing a hotel during your European holiday  , don't overlook the smaller, family run places.  They are clean, comfortable, SUPER affordable, include a large buffet breakfast and they have WiFi.  Staying in an "off-the-beaten-path" kind of place will stretch your travel money and you will have made new friends.