Last year I told you about a little restaurant in Eclectic, Alabama, Where everyone knows your name.  I had such a great time there that I went back to shoot a video of the place, The Kountry Kitchen.  I recently learned of another little gem in this small town, The Chicken Auction.  Yes, you read that correctly.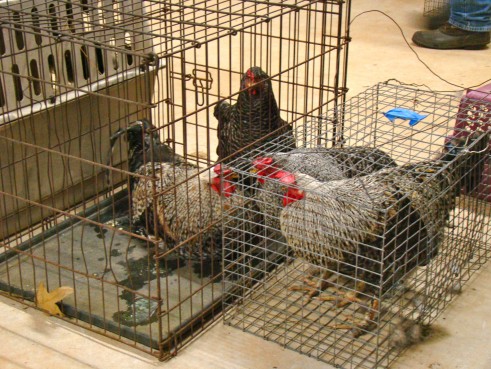 When someone gives me driving directions to a place and they include, "Turn off the paved road." I know I am going to have a great time.  After turning onto the dirt road named, "Auction Barn", you will pass through the remains of a trailer park.  The trailer park and auction barn were destroyed by the tornadoes that swept through last April 27th.  Four people were killed in the park.  Countless hours of volunteers time and money was spent to bring the auction back.  This isn't just an auction, it's a friday night social event.
Every friday night at 6 p.m., people gather at the "Barn" to sell their goods and buy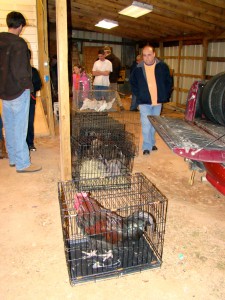 other people's goods.  If you want to sell something, bring it here.  Someone will buy it!  When we were walking up to the barn I noticed people gathered off to the side, walking around a line-up of cages.  In these cages were chickens, roosters,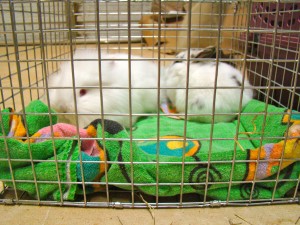 bunny rabbits and two hunting dogs.  I thought it was just called "The Chicken Auction."  I didn't actually think they auctioned off chickens!
As we stepped inside the newly built barn with its concret floors, (The old floor was dirt, with shag rugs covering it.) there were mismatched chairs, a few old sofa's, recliners, and a few benches to our right.  On our left was the sign up table.  In order to place a bid, you had to sign up by giving your name, address, telephone number and valid driver's license.  I noticed a stack of pictures on the table.  I picked them up and thumbed through them.  They were pictures of the tornado damage, and they were heart-wrenching to look at.
In the back of the room was a snack bar.  They served the typical "snack bar" food, hot dogs, nachos and soda, but there were two items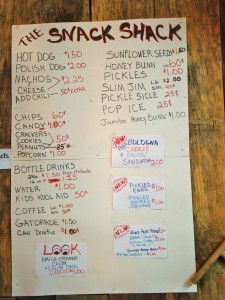 listed that I had never seen on a snack bar menu, until now.  Fried bologna sandwich with onion and cheese and pickle sicles.  Now, anybody that has lived in the south knows about fried bologna sandwiches and yes, I have eaten a few in my day,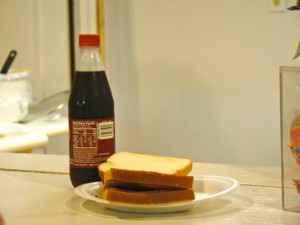 but I have never heard of a pickle sicle.  Apparently one time they sold all of the pickles from the jar and decided to pour the juice into Dixie cups and freeze them.  The kids loved them and they sell like crazy.  They even auctioned off the jar the pickles came in and someone bought that too.
Did I mention that these were just good ol' country folk?  Children were running around barefooted, playing.  Boys and girls, men and women wore their camo jackets and pants, overalls and dickies, and there was hardly a head in there without a baseball cap on it.  When I found a seat and looked down to place my water near my feet I realized I was wearing my camo crocs.  I fit right in!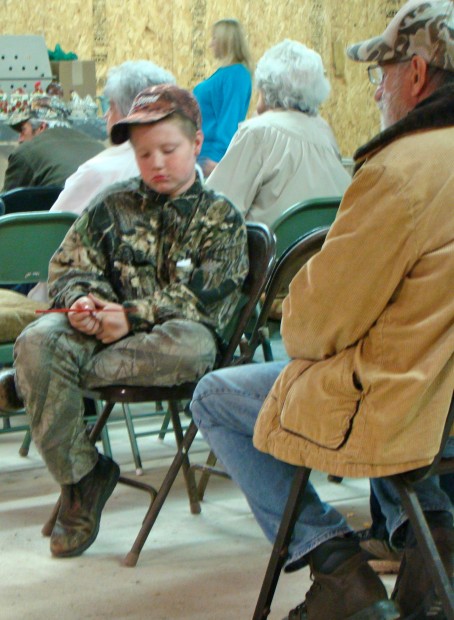 Before the auction started I heard a young girl say, "Let us pray."  As baseball caps were removed, and heads bowed down low, the prayer was said.  At the end of the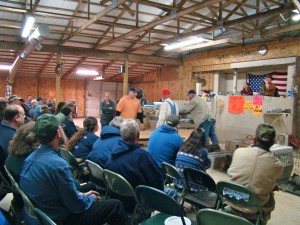 prayer a very loud, "AMEN" was said by all.  Baseball caps were returned to their proper places and the fun began!  The auction started with the auctioning of the "stuff" people brought in.  First item up, a four-foot metal measuring stick.  It sold for $5.00.  Next item,  five plastic cups.  Not just ANY plastic cups, but the large kind you get at the movie house filled with your choice of soft drink.  The lot sold for $1.00, and the old man who bought them shuffled to the front to get his prize. You could see on his face just how tickled he was!  How about some hole diggers and a pick?  You could have gotten them for $6.00!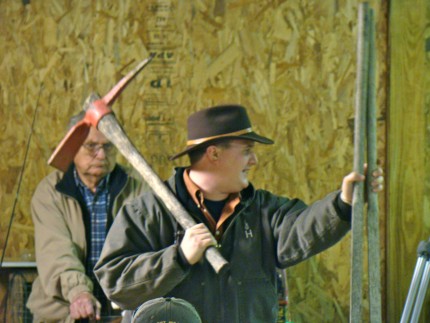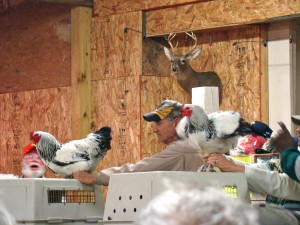 After all of the "stuff" was sold, the REAL reason everyone was there got underway.  The Chicken Auction!  One thing I learned, hens sell for more than roosters.  You only need one rooster, but several hens.  There were big chickens, little chickens, baby chickens and then the eggs.  You could buy fertilized eggs or eatin eggs.  Take your pick.  There were A LOT of chickens to be sold and they went quick.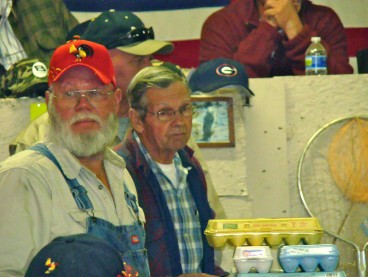 Now, the dogs.  This made me a little sad.  I didn't understand how someone could get rid of a dog.  When the first dog was placed on the table, he immediately went into "pointer" mode.  That dog had his eyes locked on a chicken and he did not move a muscle!  He went for a whopping $50.00.  Next dog was a Setter and he was very skittish.  He sold for $26.00.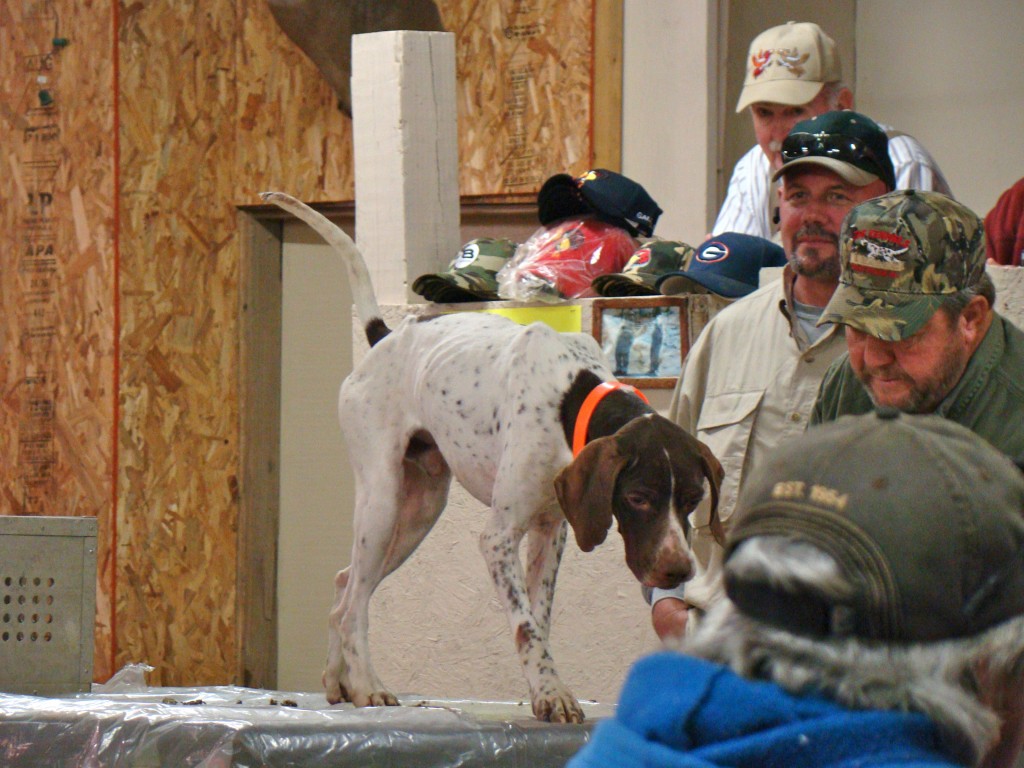 At the end of the auction, and everything was sold, the people who bought anything were lining up in the back to pay.  I didn't buy any of the "stuff", and I certainly have no need for a chicken or another dog, so I said, "Goodnight." and we left the barn.  This is definitely not Christie's Fine Art Auction, but I bet you will have more fun here.
This is my journey…
[donation-can goal_id='keep-me-on-the-road' style_id='default' show_progress=true show_description=true show_donations=false show_title=true title="]