July 22, 2007 my nine-year old lab died. Her uterus had ruptured and the poison in her body killed her. I had taken her to the vet 10 days earlier, and he said she had a bladder infection. He is no longer my vet. That was a very painful, heart wrenching experience, and it is one I hope no one else has to endure. Get your female pets spayed.
In mid November, I had gone camping with a couple of friends for the weekend. At the bottom of the Cheaha mountain is a little convenience store, and running around the front of the store was a dog. She was covered in fleas, had an obvious previously broken leg and was emaciated. I went inside and asked the lady if anyone was feeding the dog. She told me, "no, that if they fed her, and she caused an accident that they would be liable." I then asked her if she thought it was fine with her to watch the dog starve to death. She just shrugged her shoulders. I purchased a bag of dog food and went out to feed her. The next morning I came back down the mountain to feed her again and someone had thrown the bag of food away. I went inside, bought the biggest bag they had and went outside and poured the whole thing out on the ground for the dog. They could clean that up if they wanted to, but I was not in good conscience going to let an animal starve.
I toyed with the idea of taking the dog with me when I left, but the dog was covered in fleas and, I didn't know how she would behave on a 3 hour ride home. I ended up leaving her there. As I was driving through the country enjoying the beautiful weather I noticed a sign on the side of the road which read: "LAB PUPPIES FOR SALE". I whipped my car into their driveway and the lady came out. The puppies were so cute! They also had two more weeks to go before they could leave their momma. I took the ladies number and told her I would call if I decided to buy one.
Arriving at home, I found a bag of dog food at my door. Not a good sign because my then 18-year-old son had been home alone all weekend. I go up to his room and there was another bag of dog food and dog treats and dog shampoo at his closed-door. I open the door cautiously, and there she was, a brown and bronzy colored dog on his bed. My first thought was Pit Bull. I closed the door quickly and called him. I informed him that he had 30 minutes to get home and remove the dog from my home. The only thing I heard was, "but" before I hung up. I cautiously opened the door again, and she was still on his bed, tail wagging like crazy, ears up and a look of, "wanna play?" From his ceiling was a letter attached to fishing string. The letter read:
Hi! My name is Callie. I like to go for long walks in the woods just like you. I like to get up real early, just like you. I love to run, just like you. Sorry I stink; I didn't know the pond stunk. Well, that's all I have to say.
                                                                                                Love,
                                                                                                Callie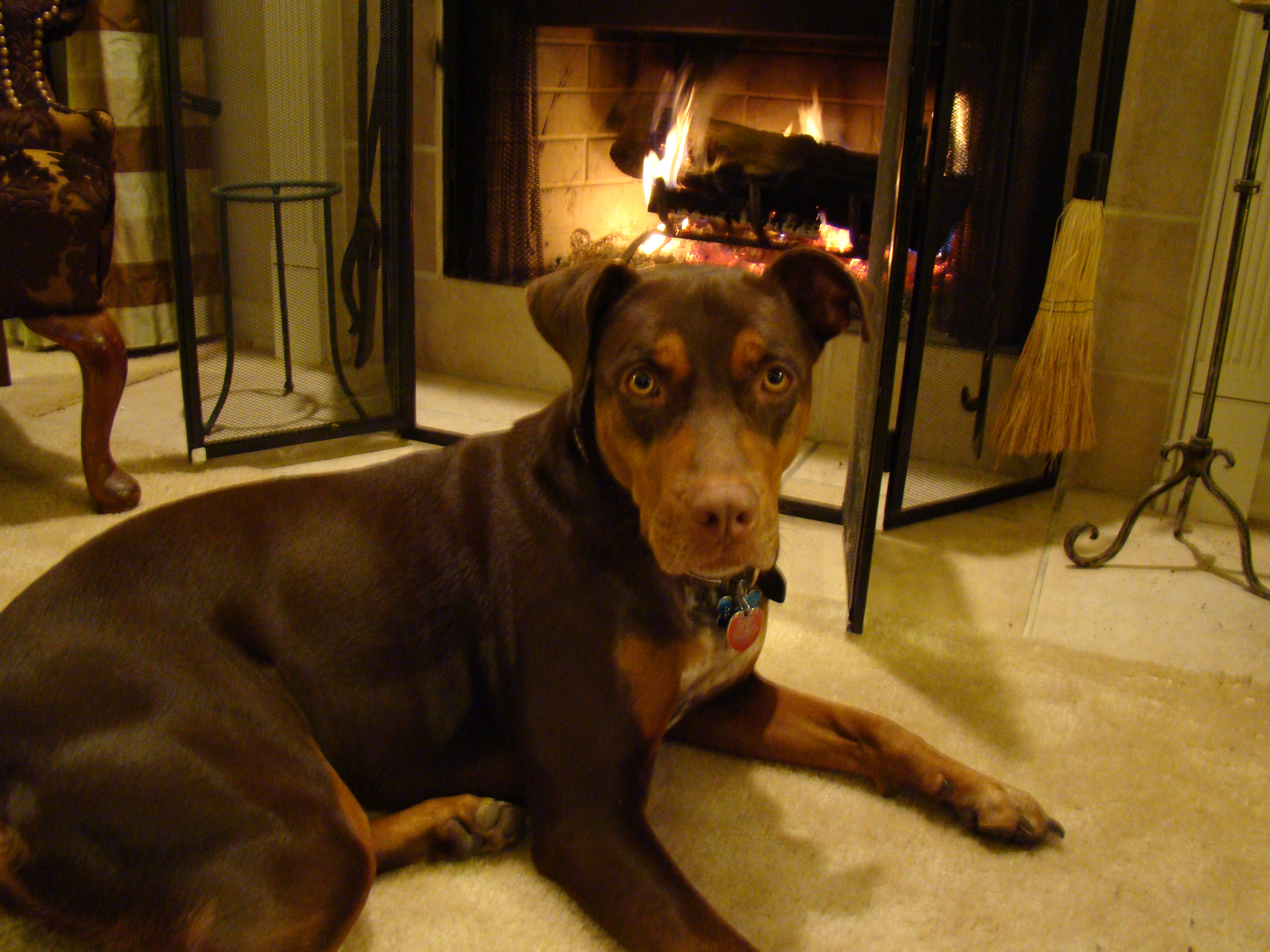 She continued to sit on Cameron's bed wagging her tail, looking at me with the "wanna play?" look. I found her leash and took her for a walk as I not so patiently waited for Cameron to get home and take her away.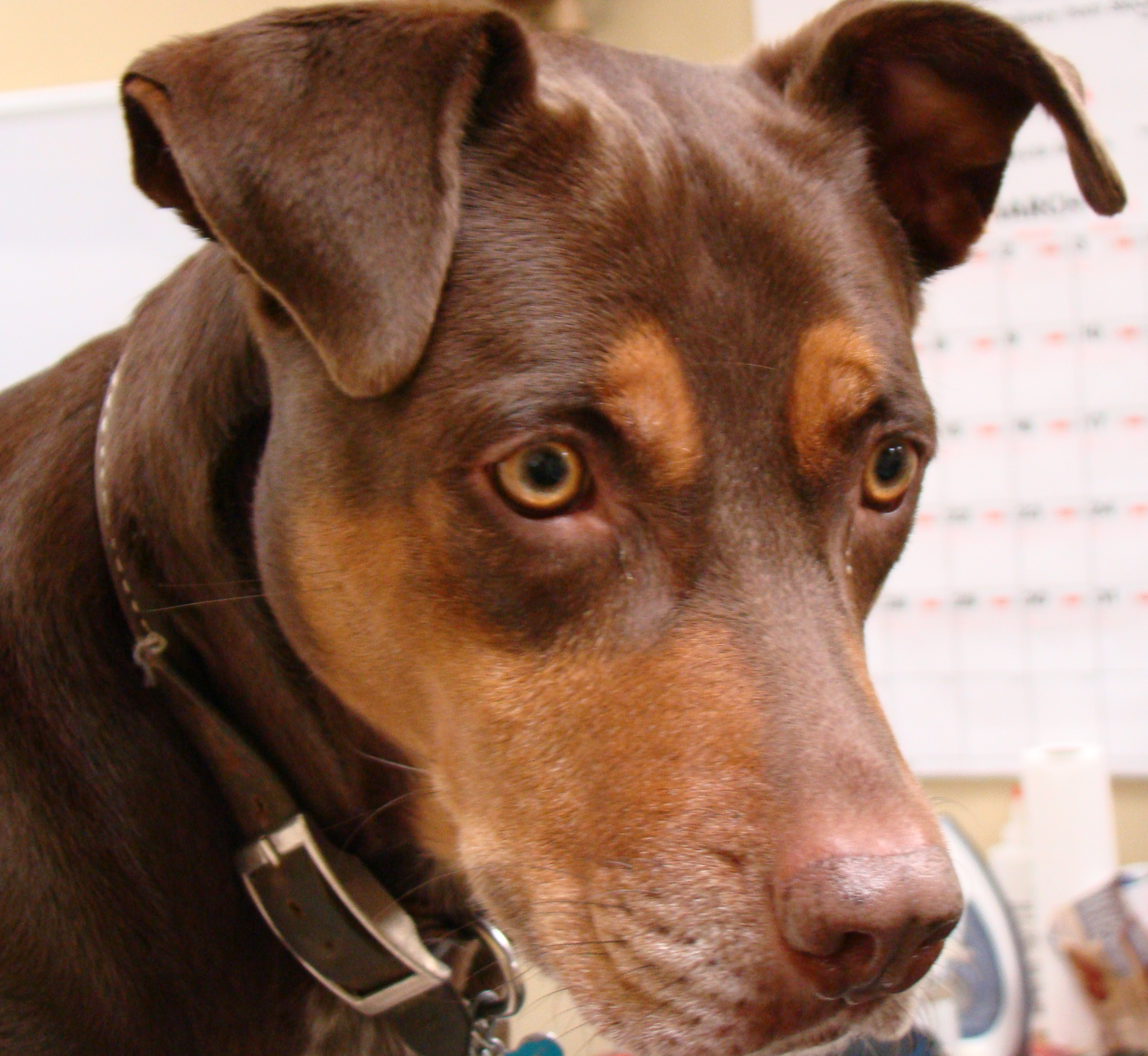 I took Callie to work with me each day in hopes that someone would want her. It didn't happen. I even toyed with the idea of the Humane Shelter. I couldn't do that either. Christmas time rolled around and I was going home (Wisconsin) for two weeks. I decided to board her during this time. The vet said she was a Doberman/Pit mix and was approximately one and a half years old. I asked them to give her her shots and "fix" her. She was not happy with me when I picked her up the first week of January. But at least I took her home and not the pound.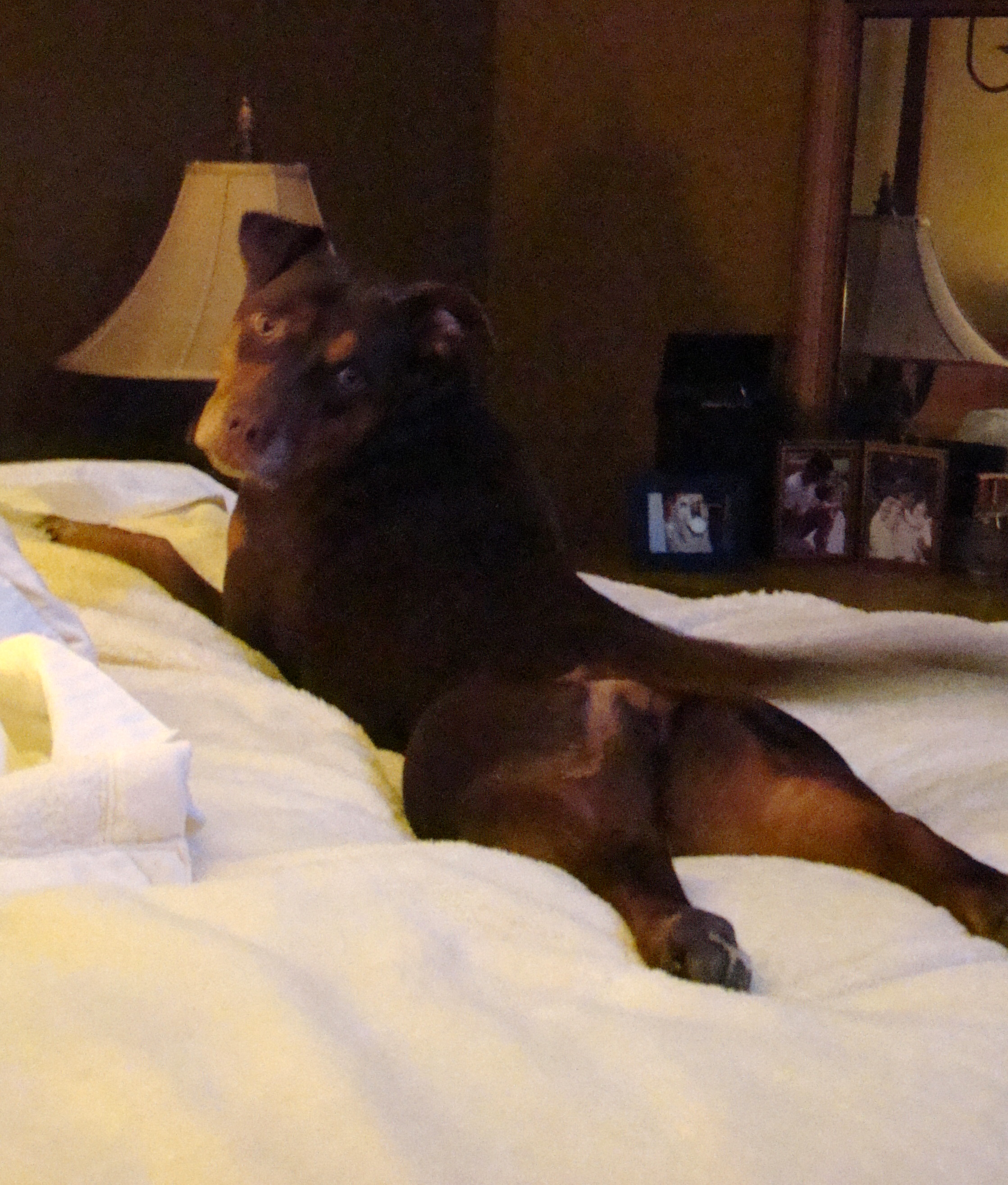 Callie Cole has turned out to be the funniest, most personable dog I have ever had. She makes me laugh. She is rather intimidating at first glance and has turned out to be a great protector. She still goes to work with me everyday and hates the weekend because we are at home. I have customers who come in just to see her! I'm glad I kept her. She has been a great companion and she will be my traveling partner on my journey. I la my Callie Cole!
This is my journey…